Social media marketing is the staple of the tech-driven digital era. And successful marketing strategies are synonyms with success.
The higher your follower count, the more easily you'll be able to fulfill your goals and spread the voice of your brand.
You can use tools like Instagram bots that can help you find and engage people who are interested in your content.
The best Instagram bots will unlock virtually unlimited opportunities for you, no matter whether you're a small business, a global company, an influencer, or a performer.
What Are Instagram Bots?
If you are laser-focused on just one aspect of your marketing, it'll be much more difficult to succeed.
You need to simultaneously publish great content, engage with your followers & listen to them, analyze the results, and adapt to Instagram's algorithm.
Seems near to impossible?
Well, Instagram bots are tools designed to help you with one of the major aspects of your marketing – engaging with your followers. Therefore, you can focus on other tasks, such as improving your presence and publishing high-quality content with minimal time and fuss.
How Do Instagram Bots Work?
OK, but how do Instagram bots engage with your followers?
They perform Instagram tasks instead of you. Different bots will offer a different range of services, but most commonly, they do these actions on your behalf:
Like
Follow/unfollow
View story
Comment
Send DMs
Some more advantageous bots use precisely defined filters to interact with accounts that are likely to be interested in your content, while some lack this capability and interact with random accounts.
Top Instagram Bots Reviewed
Without further ado, let's dive into the list of the best Instagram bots!
In the sea of Instagram bots that work more or less the same, Upleap stands out because it isn't just another bot that automatizes your actions and interacts with fake accounts and bots. They assign you a personal manager that tracks all the stats for you and is available for any queries you may have.
Thus, this is one of the rare tools that manage to bring you real and organic followers. If you want to step up your follower growth game, you should give Upleap a try.
Intrigued? Read my comprehensive Upleap review for a complete analysis.
What vaulted Nitro to the top of my list is that it is different from a bunch of aggressive bots that interact with fake accounts. It organically bumps up your account by using a combination of AI (Artificial Intelligence) and actions performed by humans.
So, it's not a classic pre-programmed bot, but all the automated activities it performs are supervised by real people. Advertently, Nitreo brings genuine followers to your profile and interacts with them in a natural manner.
Hungry for more information? If you want to see if it's really worth the money, check out the full Nitreo review.
Kenji is an Instagram bot in the real sense of the word. It performs the following actions on your behalf: follow/unfollow, like, view story, react to live. While the former three are pretty common with bots, the latter is something I don't get to see quite often.
But what is important is that it does it in a very discreet way. Perhaps the reason for its success is the AI technology that automatically optimizes the bot according to your account so that the interaction is discrete.
You can read my Kenji Instagram review to learn more about its features.
Jarvee is an efficient Instagram bot that can boost your follower count. It allows you to customize your targeting on multiple levels, including hashtags, gender, number of followers and posts, etc. A bonus on top of these features is that it also has a built-in post scheduler.
If you want to try it Jarvee – go ahead. It can bring you the desired audience. Just keep in mind that it is a bit complicated to set up! I've written about it in my Jarvee review – check it out!
Jumper Media has a bit of an odd motto – we'll grow your business faster than you could do on your own. I mean, isn't it what all Instagram bots are all about anyway?
Jumper Media can gain you new followers, but they are temporary because most of them are fake. So, if a quick boost is all you need, you could try out this service.
FollowingLike is a bot that works for a variety of social media, including Instagram, Facebook, Pinterest, Quora, and more.
For the most part, it manages to perform the automation without being detected by Instagram's radar. However, do not go for this app if you're not tech-savvy – it requires a download, and it's overly technical and difficult to set up.
Ektor.io has a couple of beneficial features – from hashtag and username targeting to the built-in proxy support. However, I experienced mixed results, and the followers I gained disappeared after some time.
I'm not sure whether Instagram deleted them, but one thing's certain: if you want long-term results, Ektor is not it.
NinjaGram is a part of the Ninja social media marketing services, and it's a prototype of an Instagram bot. It follows, unfollows, likes, and leaves comments. All of these are fine, but during some periods, the bot completely stopped functioning.
If you try out NinjaGram, know that you're in for some mixed-quality services that occasionally don't function.
From the moment you join Instazood, they ask you to specify your niche, add some filters, describe the nature of your account, and so on. So, it all looks promising until you realize that the filters are gone the next time you open the tool.
While you could try some of the Instazood cheap tariff packages to boost your follower count, the fact that it goes to default every time kept it from receiving a higher grade.
The name of this tool hints at its features: it's a bot that follows and likes other users instead of you. It can also auto comment and send messages or schedule posts in advance.
While it does offer a couple of handy features, it needs to be downloaded onto your PC. It's compatible with Windows, but to make it work on macOS and Linux, you'd have to use a VPN. Overall, FollowLiker is not really worth all the fuss that comes with it.
Combine probably won't ban your IG account like some other bots will do, but the thing is that it won't do anything spectacular, either. It's extremely slow, and there'll rarely be more than 5-6 actions a day.
It's clear as crystal this won't bring you the followers you need. That said, its scheduler is fine. If post scheduling is your primary goal, you can try Combin.
Ingramer has a stellar marketing strategy. The performance? Mediocre.
Technically, you'll probably grow your account with Ingramer, though it takes a bit of time until you figure out which settings to use. But sometimes, it will get your actions blocked, and it's a hassle that could significantly slow your growth. So, you can try this Instagram bot, but arm yourself with patience!
Instamacro can build you a solid follower base, but unfortunately, there's a price you have to pay for it. Both literally and figuratively.
Firstly, their packages are outrageously expensive. Secondly, people oftentimes got blocked and banned. Can the benefits outweigh these negatives? IMO, nope, not really. Your account safety should always be intact.
Stellation Media offers not-so-popular Instagram practices for your IG. For example, its primary purpose is story viewing, but it also answers Instagram story polls, quizzes, and slides instead of you.
Unfortunately, with this kind of automation, you won't get any noticeable results and new followers.
EverLiker is an Instagram bot that functions as a Chrome extension. This automatically means that there are some risks involved, as it's getting access to your sensitive data. It also can get your account banned, and they even state on their website that "Everliker is used at your own risk."
If a company doesn't want to accept the consequences of its practices, it's a no from me.
Another bot that works better for post scheduling than automated activities is Gramto. The bot features won't get you far, but you can still use it to schedule your posts in advance.
The thing is: should you really have to pay for a bot just to be able to queue your posts? Not really. There are much better alternatives that offer more.
MassLooking is an Instagram bot with a single purpose – viewing others' Instagram stories instead of you. While this is an OK tactic, it's inferior to likes, follows, and comments.
Add to the equation the fact that it will block your story viewing activity, and it becomes clear that this tool isn't worth your money.
While Somiibo features seem fine on paper – it doubles as an Instagram bot and Instagram growth service – I didn't notice any growth whatsoever when I tried it out.
So, the only logical reaction was to ask for a refund, which I did, and they accepted it. However, they do not always accept refunds, and sometimes take too long to respond, which is something you should have in mind if you want to try Somiibo.
Perfect Liker is a fusion of Instagram bots and Instagram growth services. Basically, it allows you to select the number of followers that you wish (just like a classic Instagram growth marketplace) but then brings them to you like a robot – by following other users.
It states that it's forbidden to unfollow users they followed on your behalf or Instagram will ban you. No tool should ever make you do something involuntarily.
Likegrowers, like the name suggests, is an Instagram bot that focuses on likes.
It's never a good strategy when a tool makes use of just one Instagram activity because it can appear aggressive, and Instagram will most likely block that kind of activity for you. In that case, you won't be able to like anyone's posts after you've used this auto-liker for some time.
You can try Boostagram if you're on a lookout for one of those Instagram bots that will temporarily boost your account by interacting with other bots and fake accounts.
Apart from that, you won't get much. The best way to get your content in front of your target audience is the organic way of growth. And Boostagram is far from it.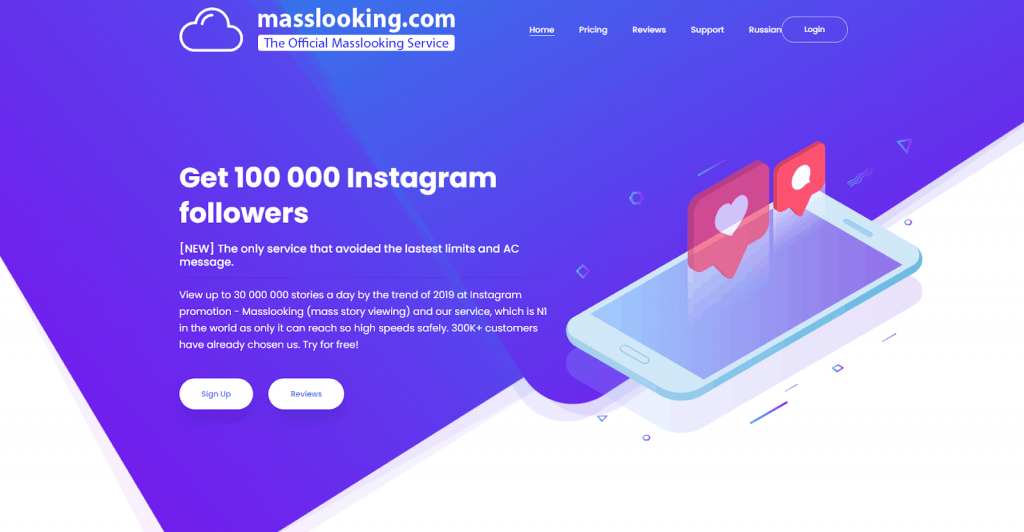 Speaking of plagiarized web pages, Maspoller is another Instagram bot that points to another service – Masslooking.
This time around, though, it looks as if they belong to one and the same company with the same features. I don't see why they chose to separate the bot to Masslooking and Maspoller.
In any case, they both offer the same automated activities – massive story viewing and poll voting – which isn't really productive for your Instagram growth.
Stim Social official website is banned on Google. That's the first red flag. The second is the fact that the company seems to be a scam with unreliable services. It's not clear who they really are, and it might block your account.
Therefore, you should avoid Stim Social and similar Instagram bots.
Instavast requires you to download suspicious software on your PC, and their bot automation seems not to be working anymore.
I don't like the fact that they are still accepting new customers even though the bot stopped functioning. So, you should definitely steer clear of using Instavast and similar tools that try to trick you into buying their services.
RoboLike – a cool name for an Instagram bot – I'll give them that. But this tool is wasted potential. It only has a single function, liking others' photos and videos.
Even before, it wasn't particularly popular. And in 2020, it seems not to be working for the most part. Therefore, I cannot recommend RoboLike to any of my readers.
Instamber is a multi-layered marketing service that offers features for various social media platforms, including Instagram automation. It isn't limited just to likes and follows, but can also send DMs and leave comments.
The problem is that I cannot recommend this bot to you because, most of the time, it doesn't seem to work, albeit it sounds good in theory.
Followadder avoids the term "bot," but instead makes claims that it is an "autopilot," "organic growth tool," etc.
The reason why the company does this is that they are trying to hide the fact that their services don't work and put your account at risk. It also doesn't help that they require you to commit for six months, as there are no weekly or monthly tariff plans. You shouldn't download this bot.
Growbot for Instagram functions as an extension, and its performance is kinda disappointing. People have complained that their accounts got banned and blocked, and the only thing you can get is fake followers.
Organic reach is something you should strive for. Only then will more people be able to see your content. Hence, bots that bring fake accounts to your profile are not the solution.
Instoo is another Chrome-based Instagram bot. I found that it steals your browsing data, which can put your account and data at risk.
Therefore, I don't recommend this Instagram bot to anyone. Your safety and privacy are much more important than getting followers with shady services like Instoo.
Gramista should like, follow, and unfollow other users on your behalf. Those are pretty basic features, but with the right bot and settings, they could be effective.
However, it seems that Gramista stopped working around July 2019, but they are still accepting new clients. That's what I deem a scam.
Chrome extension bots are the least successful type, and Helper Tools for Instagram does not stand out.
It gets your action blocked, and there's no customer service you can contact. They just leave an email address where you can try to reach them, but they aren't really responsive. Thus, this extension is a big no-no.
In theory, Instato is an Instagram bot – or an Instagram manager, as they put it – that offers a lot. It also has a built-in post scheduler.
Sadly, Instato doesn't work anymore, perhaps because they violated Instagram's terms and conditions. But my main concern about it is that they are still accepting payments and subscriptions. This is borderline fraudulent activity.
Autonsta.me is a mixture of inconvenient features and a tool that isn't working the way it's supposed to.
They make you download a shady zip file, which you should then open in your browser to use this bot as an extension. The features don't really function. The logical final verdict that follows is to skip this one.
Does this interface look familiar to you? That's because LikeSocial copied another Instagram bot – Instamacro. From what I've seen, it doesn't look like they belong to the same companies. It's more likely that LikeSocial stole their design.
It's no wonder, then, that LikeSocial is being sued by Facebook. Plus, all of their services seem to come from fake accounts. This is a scam you should avoid.
Social Buddy tries to hide the fact that it is an Instagram bot by providing vague descriptions of their services. And that's always a sign that a tool doesn't work the way it's supposed to.
Fake claims aside, I wasn't impressed by its performance, either. With loads of hiccups in the automation, Social Buddy is not the Instagram bot you should try.