Before you spend your hard-earned money on a social media tool like InstaBoostGram, it's important to know what you're getting into. Unfortunately, there are too many similar companies whose only purpose is to take your money, so you can never be too careful.
I've tested tons of websites that let you buy followers. Upleap is the best one I have tested yet. Check them out in my detailed review.
Lately, Instagram's been cracking on fake followers more than ever, so if you're going to pay for a follower buying service, it's got to be legit.
InstaBoostGram is a well-known Instagram growth service. But is it a legit business or a scam that's after your money?
What's the deal with InstaBoostGram?
Can you get real followers from them?
I will answer this and more in my InstaBoostReview, so keep on reading!
What is InstaBoostGram?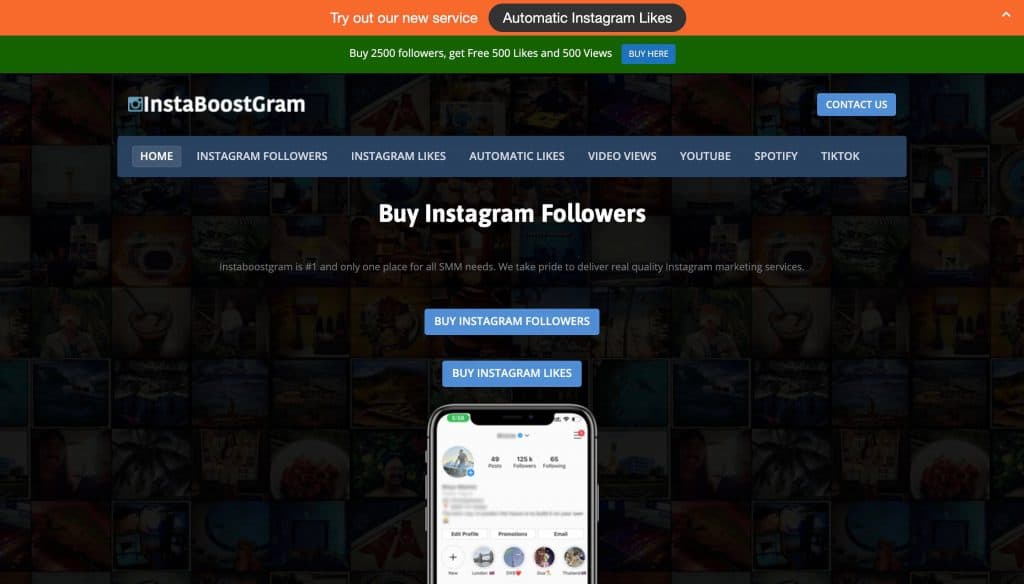 InstaBoostGram is your typical Instagram followers buying service. According to their website, all of their followers are 100% real.
However, I've found a lot of reviews of people saying that's not completely true.
Many people on Trustpilot said they managed to boost their accounts through InstaBoostGram, which led them to believe they were the real deal.
The trust issues occurred when they started losing their followers gained by InstaBoostGram. This made them seriously doubt the realness of the said followers.
It made me quite suspicious as well, mostly for one reason.
Why would Instagram remove authentic, real followers?
There can only be one answer, and we're all thinking it – perhaps they're not so real after all.
Now, I'm not saying all of the followers provided by InstaBoostGram are fake. On the contrary, there's a good chance they get you some real followers too.
But if there's even a slight chance you'll attract bots to your profile, I'm just not sure it's worth it.
Instagram is really strict about bots, so I don't recommend risking it.
Another thing many reviewers brought up is their name. Are they violating Instagram's copyright by using 'insta' and 'gram' in the name? I don't know, but it's an interesting point to which I would love to know the answer.
Other Popular Instagram Growth Tools
How does InstaBoostGram work?
InstaBoostGram sells followers, likes, likes based on gender (I'll get to that later) and video views for Instagram.
While Instagram is their main focus, they also have packages for Youtube, Spotify, and TikTok.
It's actually very simple – you pay, they deliver.
Popular reviews you should also read:
One of the good things about InstaBoostGram is that you always get what you pay for, so there's no funny business there.
Once you pay for a certain package, they say you'll receive "fastest delivery online." I'm not sure what their definition of 'fastest' is, but, according to Trustpilot reviews, it's a few minutes after purchasing.
InstaBoostGram Features
Like I said before, InstaBoostGram works with four social media platforms – Instagram, Youtube, Spotify, and TikTok.
Let's start with Instagram. Here's how they help you boost your account.
Instagram Followers
InstaBoostGram separates high-quality followers from premium followers. Premium followers are less likely to drop since there's a higher chance they're real people. So naturally, they're more expensive.
For high-quality followers, you can choose between 10 packages. The smallest one gets you 100 followers, and the largest one provides you with 25000 followers.
There are only four packages for premium accounts, and you can buy from 500 to 5000 premium followers. For these packages, InstaBoostGram guarantees delivery and auto refill after 30 days, which is not the case with high-quality followers.
As for the genuineness of the followers – the jury's still out.
Instagram Likes
InstaBoostGram makes a difference between Instagram likes and automatic likes. If you go to the Instagram likes section of their website, you'll see that you can buy 100-10000 likes that you can split between multiple posts.
This is a one time deal.
You'll pay for the likes, and they'll arrive a minute after purchase.
The automatic likes feature is a bit different. You pay for them as well, but you don't receive them all at once. Instead, they're spread throughout an entire month.
You can get 250, 500, 1000, and 1500 likes per post, up to 4 posts per day. Video views are also included.
InstaBoostGram, again, claims these likes are from real people, but there's really no way to tell for sure. While some likes could come from authentic accounts, I can't tell you for sure there won't be any bots in the mixture.
InstaBoostGram also offers likes based on gender.
Yeah, you read it right.
You can choose to get likes only from male or female profiles. I'm not sure what is the exact point of this, but it's there. So if you only want male or female likes, you can get it from InstaBoostGram.
Instagram Views
You can get views for regular videos, IGTVs, and for stories. They have 5-6 different packages for each.
If you post a lot of stories or IGTVs, you could really benefit from bought views.
YouTube
Let's quickly check out what features InstaBoostGram offers for Youtube.
You can buy Youtube views, ads views, likes, subscribers, custom comments, and shares.
InstaBoostGram doesn't ask for your password or other sensitive information. All you need to do is leave a link to your Youtube video.
If you're looking to boost your Youtube channel, keep in mind that the prices for the aforementioned services are way steeper than for Instagram.
Spotify
InstaBoostGram claims they can help you hit the top position on Spotify ranking charts by selling Spotify plays and Spotify followers. You can buy 1000-100000 plays and up to 5000 followers, but they also don't come cheap.
TikTok
The popularity of TikTok has escalated quickly. Millions and millions of people (though mostly teenagers and young people) are on TikTok making short videos.
If this is your demographic, maybe it's time you get on there. Naturally, it's hard getting people to notice you on such a huge platform, and this is where InstaBoostGram comes in.
They say you can get TikTok-famous fast with their bought followers, likes, views, and shares.
InstaBoostGram Pricing
InstaBoostGram is, first and foremost, a service for buying followers. They offer two types of followers, the high-quality and premium.
I recommend you go with premium followers. They are more expensive, but there's a better chance you get real followers and not bots. With high-quality followers, the chance is considerably smaller.
The above are the prices for high-quality followers. You can choose from 10 packages ranging from 100 to 25000 followers.
For premium followers, InstaBoostGram offers four packages:
For further pricing information, I encourage you to go to their website to check it out in detail according to your needs.
Just be mindful, the prices are not exactly budget-friendly, especially for platforms other than Instagram.
Is InstaBoostGram Legit?
I have to say yes – InstaBoostGram is a legit Instagram growth service.
Having said that, I still question the quality of the followers. There's got to be a reason why Instagram removes many of those followers, and it's not because they're real.
Is InstaBoostGram Safe?
InstaBoostGram is completely safe to use. They have a legit website and they don't ask for your information, other than email address and Instagram username.
Furthermore, payment is also secure. You can pay with a credit card, or you can do it via PayPal if you don't want to leave credit card info on their site.
If you're wondering about refunds, you'll get them only in two cases:
Non-delivery of the product
Product not as described
In both instances, you'll have to provide evidence within 72 hours in order to get a refund.
Luckily, InstaBoostGram has a 24/7 customer service you can contact in case something's wrong.
Pros and Cons
| PROS | CONS |
| --- | --- |
| Safe and secure payment, including PayPal. | They're kind of expensive. |
| They can help you boost your Instagram, Youtube, Spotify, and TikTok accounts. | There's no 100% guarantee you get real followers. |
| | Instagram removes some of the bought followers in time. |
| | Potential bots put you on Instagram's radar. |
| | It's too complicated to get a refund in case you're not satisfied. |
Is InstaBoostGram the best way to boost your Instagram presence, activity, and engagement?
It's debatable.
My biggest issue with InstaBoostGram is that all of the followers you buy are not real, and I don't appreciate that they claim otherwise, since it's obviously not true.
On the other hand, they are a legit company that offers many exciting features for not one, but four social media platforms. They're also safe to use, and they deliver in time.
Still, it bothers me that they don't get you 100% real followers, especially at that price point.
If you want to boost your account, I always say it's better to do it organically.
Good luck reaching Instagram stardom!
Top 10 Instagram Growth Tools
Here at Platypus Reviews, we advocate growing your Instagram account organically with real followers. Buying followers and likes might seem like an enticing idea at first but we can assure you that it'll eventually backfire.
To avoid that, you can check out the tools we have listed below. We've tested numerous tools over the years and our end results are summed up in the table below!