Ahoy to all my fellow Instagrammers!
I'm back with testing Instagram tools that should boost your growth.
As you know, the world of social media is pretty cutthroat. If you want to have any success, you need perseverance, patience, and a lot of time.
However, not everyone has the time to grow their Instagram presence. Thankfully, there are plenty of growth services that can do that for you.
Today, I'll present to you what I've learned about such a service – Upleap.
I've gone over their website and read all the Upleap reviews I could find – here's what I found out.
Upleap – A Quick Recap
Before I get into the nitty-gritty about Uploeap, here's a table of the company's pros and cons so you know what you can expect from the full review.
| PROS | CONS |
| --- | --- |
| User-friendly interface | Mixed reviews on Sitejabber |
| Offers a 10-day free trial | Maybe too pricey |
| Responsive customer support | |
| Management team available 24/7 | |
| Offers an affiliate and agency plan | |
| Legitimate company | |
| Personalized features | |
What Is Upleap
Upleap has been around for quite a while. They've been in the business of selling Instagram followers.
However, they've abandoned that practice for something much more worthwhile – organic growth.
This is miles better than simply buying a metric ton of followers. Besides, Instagram doesn't take kindly to bots.
If IG suspects you're using bots to boost your follower count, they can shadowban you. This means no one except your followers will see your posts. In other words, you will cripple your growth.
By relying on bots, you won't get the engagement you need, you'll just get a high follower account. People can quickly figure out something off with your account when they see you have thousands of followers and just a few likes and comments on your posts. This will only further slow your momentum on IG.
If you're a brand, you want real followers so you can convert them into loyal customers. And if you're an up-and-coming influencer, you need real followers in order to get meaningful engagement.
In my quest to find the best IG services, I only discovered a handful of truly excellent ones, one of them being Upleap.
Just like with their previous service model, Upleap still offers a perfect combo of safety, quality, and customer satisfaction.
When you sign up, your account's growth will be in the hands of one of their highly experienced social media account managers. There's very little automatization involved, a real person will handle most aspects of your account growth.
The best thing about all this is that you can contact them at any time, either by live chat or by email. I was pleasantly surprised at how fast their response time was.
After a couple of minutes of sending a message, one of the account managers got back to me and answered all the questions I had about the service and how it works.
Speaking of how Upleap works, let's see how this service actually works.
How Does Upleap Work
First thing first, you need to register for the service.
That's pretty simple. All you have to do is click on the SIGNUP or the START YOUR 10-DAY FREE TRIAL button. Both take you to the same page.
Next, you'll have to enter your email and password. After that, you'll have to enter your IG handle.
Don't worry if you mess this step up. You can always change it later in the settings menu.
Next, you'll have to choose a plan. Upleap currently offers just the standard plan, with a premium plan coming soon. The coolest thing about it is that you'll get a massive discount if you remain subscribed until they release the premium plan.
Once you've signed up, you'll be assigned your personal Instagram guru that'll start working on growing your account. But, you first need to set up the targeting. 
Setting up your target audience is pretty simple. All you have to do is enter the accounts and/or hashtags relevant to your niche.
You need to add at least 10 targets so the account manager knows what type of audience will work best for you.
As far as I'm aware there's no upper limit to how many targets you can have so go wild. Add as many accounts and hashtags you want.
Once you've set that up, the account manager will start following and engaging with your target audience.
Right below the targeting section of the dashboard, you can find the followback section. It reports how many followbacks you got as well as your recent activity.
Next, you have your whitelist and blacklist. This is a pretty straightforward feature:
The whitelist is a list of accounts that will never be unfollowed. The blacklist is completely opposite to that. It's a list of accounts that will never be followed.
You can fill out these lists when you set up your targeting, but there's no need to hurry.
You can slowly fill them out as your IG account grows and you get a feel for what type of engagement works best for you.
Since Upleap is run by real people, you can get in contact with an account manager whenever you want. The contact form is integrated into the dashboard.
Feel free to ask them any question you have about your account, an account manager will get back to you in a matter of minutes if you use the chat feature.
You can also send them an email, but you'll have to wait a bit for the answer. Thankfully, not too long.
Upleap's 2023 Features: Bop or Flop?
Drum roll, please!

It's time for the main part – the announced features for May and June of '23.
Here's what's on the menu:
Audience Targeting
First off, Upleap is trying to make sure that its customers are getting a customized inflow of Instagram followers. Their aim is to release an "Enhanced Audience Targeting" feature that will allow for steady and increased growth for your Instagram account.
Like After Followback
After you've gained followers, it would be polite to say "Thank you" in a way. Well, Upleap's next feature is adding an automatic like for a few posts that aim to increase engagement and the retention rate of your followers.
Instagram Growth Planning & Personal Account Managers
Next up, Upleap will be assigning personal account managers instead of users. The sole aim is to contribute to a more steady and organic growth strategy for your Instagram account. These managers are supposed to help with relevant content, hashtag research, etc.
Targeting Suggestions
Upleap will automatically suggest relevant targets to save the time you'd spend researching pages that suit your account's niche.
Opened DMs
This one's pretty similar to the Like After Followback we've already reviewed. In essence, this upcoming feature focuses on opening a conversation with your audience as soon as they follow you. You can say thank you, offer a discount, and so on.
Let's say that it's a more interactive option than the first one.
So far, it's a bop.
Upleap's Pricing: Too Much?
Of course, I can't skip the monetary part of the review. As for Upleap, it's pretty straightforward. You can choose to be billed either annually or monthly.
As for the packages, you can choose between Standard, Pro, and Premium.
If you go for the monthly option, here are your plans:
And here are the plans for one year:
Just a reminder that their monthly Premium Package can cost you $239 – not exactly budget-friendly.
Especially if you're a brand just starting out – it's a lot of money for a growth service, don't you think?
10-day Free Trial
Here's one awesome thing when it comes to growth services. And mind you, not all of them offer this.
Giving your potential customers a chance to get to know your service free of charge is an excellent way to showcase your quality.
Upleap's in on the game.
It's aimed at both individuals and businesses – which is another plus.
On your part, you'll just need to sign up (name and email address) – no sus information that'll hurt your wallet.
Affiliate + Agency Program – NEW
Upleap's not only looking to upgrade its features. Now, it's also offering an affiliate and agency program.

Let's put things into perspective.
You can become Upleap's affiliate partner. If you say "Yes," you'll be able to track your earnings and get paid.
Here are more details: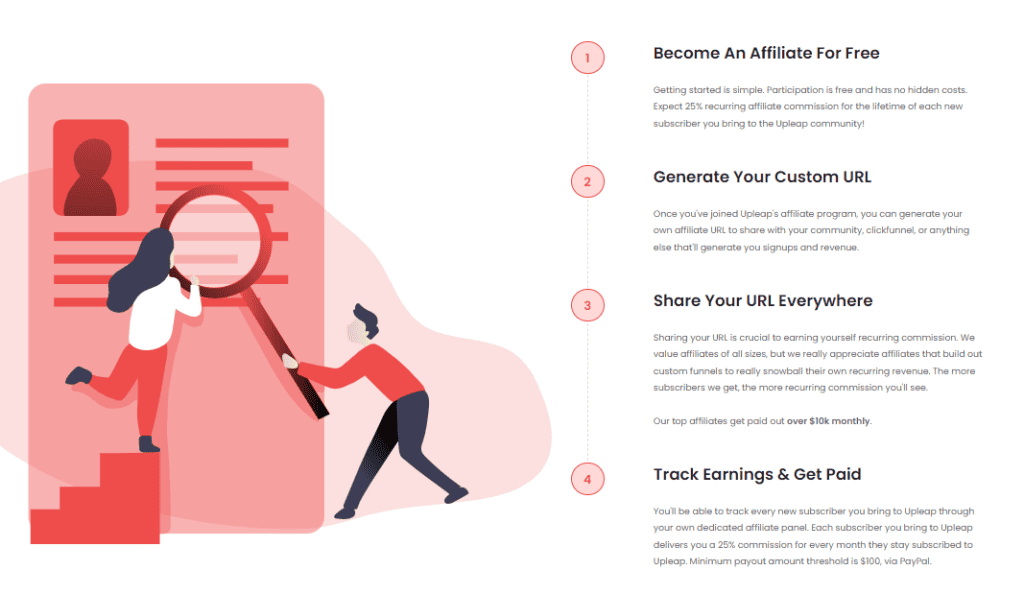 That's not all – Upleap's dedicated to helping your Instagram agency grow as well with dedicated support and training.
Here are the details for that as well:
Is Upleap Legit?
There is no reason to doubt it – Upleap is legit.
The company is transparent about its operations, techniques, and policies. All is laid out in front of you, so you know what you're getting into.
In my line of business, I don't get to say this often, but here it goes – There's absolutely no shady business going on behind the curtains of Upleap.
Is Upleap Safe
After a gauntlet of tests, my final answer is that Upleap is safe.
Sure, they do require your IG password, but since they bring in genuine followers, there's no risk of getting banned by Instagram.
Moreover, their website is a secure HTTPS one. In case you decide to purchase one of the plans afterward, the payment processing is safe and encrypted.
The customer support staff is pretty transparent too and will do everything in their power to prove to you that your data is safe. After all, if your data gets leaked Upleap has more to lose than you do.
You can always recover your account, but they won't be able to recover their reputation that easily.
Upleap – Final Verdict
To sum it up, here's a detailed list of Upleap's yays and nays – a few key takeaways.
| PROS | CONS |
| --- | --- |
| Affordable monthly plan | They can only grow your Instagram account |
| You get real followers | |
| No bots involved | |
| Legitimate company | |
| Safe to use from all aspects | |
What's more left to say? The table above sums up Upleap pretty well. If you're looking for a safe, quick, and efficient way to gain Instagram followers, Upleap's the way to go.
Even if you encounter any issues along the way, their super-responsive customer team is happy to help.
If you consider money to value ratio, it really doesn't get better than this.