When Instagram first appeared back in 2010, who would've thought it would become what it is today – a lucrative platform with endless opportunities.
It's true. Instagram is an online space where you can grow your business and make serious money. But the success won't just fall from the sky – you gotta work for it.
I understand that becoming noticed on Instagram is hard enough, let alone becoming known to vast audiences from your niche. It takes time and patience that, frankly, most of us don't have.
Which is why people created Instagram growth services.
But I'm sure you already know that. The real reason you're here is that there are too many growth services out there, so how are you supposed to choose only one and be confident about your choice?
Welcome to my guide for the top Instagram growth services! Here, you'll find out which one is worth your attention and why.
Let's dig in!
What Is An Instagram Growth Service?
One thing's certain about achieving Instagram stardom – consistency is key.
Instagram growth services do for you what you could do by yourself if you had hours upon hours every single day to commit to your Instagram profile.
An Instagram growth service, as the name says, consistently grows your profile and increases your engagement for you. It's either a team of social media marketers and strategists or an automatic online tool.
Similarly to big companies that hire people for social media marketing, you can get an Instagram growth service without hiring a full-time employee.
Pretty nifty, right?
How Do Instagram Growth Services Work?
The crucial thing is to separate organic growth services from those that employ the use of bots. Bots can effectively raise your follower count overnight, and while that sounds tempting, there are serious negative consequences that accompany bot activity.
Organic growth services have a similar but differently executed strategy.
While bots often bring fake followers, organic services make sure you only gain real followers that are genuinely interested in what you have to offer.
For business owners, an abundance of fake profiles and disinterested people can create a counteract – existing and prospective real followers will easily see through all the fake followers and bot activity.
Furthermore, if the service attracts only a few real accounts and a bunch of fake ones, then what is the point of using it in the first place?
So, what do growth services actually do to grow your account?
It's simple – they perform tasks on your behalf. This includes actions such as:
Liking
Following
Unfollowing
Commenting
These are basic actions most of the services perform. Some more advanced also offer to send DMs, schedule posts, etc.
Bots use filters for targeting an audience, but the preciseness of the filtering is often not up to par.
And what about organic services?
They make the ultimate effort to get you only real followers from your niche.
Top Instagram Growth Services Reviewed
It's time to check out the top Instagram growth services of 2020.
Upleap stands out for many reasons. From the secure website and payment procedure to their nit-picky rule-following strategies, Upleap's got it all.
The company is 100% transparent about all their practices, and best of all – it provides genuine organic growth.
There's no doubt that Upleap's worth a shot. If you're intrigued to know more, dig into this comprehensive Upleap review!
Kenji is powered by advanced AI technology, and it performs all actions in the most natural way. You can count on it to work well and to provide you with organic growth. Even though technically it's a bot, there's absolutely no reason why you shouldn't trust Kenji.
Is it worth it? Oh, yes.
Kenji is a top-notch tool that's got all you need – and more. To get a whole picture of Kenji, read my complete Kenji review.
4. Social Boost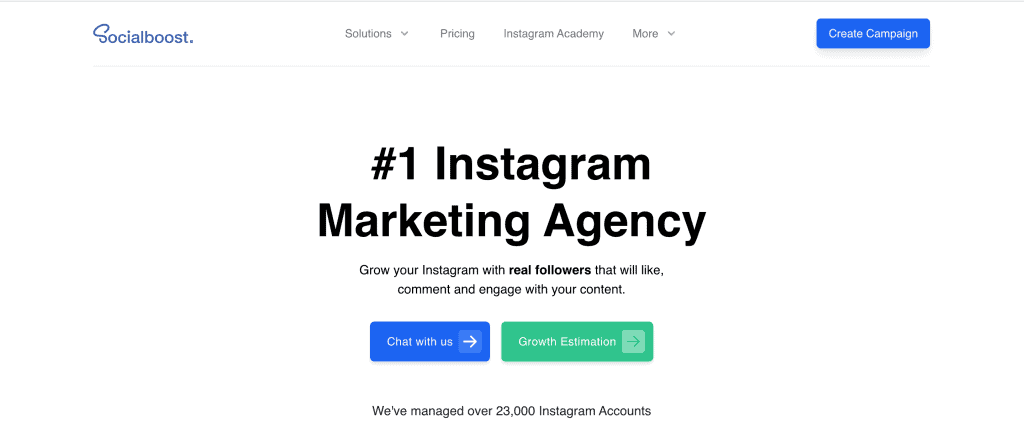 If you are an aspiring social media influencer, then you have probably heard of Social Boost. This company provides a service that helps you to grow more followers and engagement on Instagram. I dug deep to find out all about this service and put it in my Social Boost review.
5. Rocket Social
Rocket Social's actions could cause quite a few problems, so in the end, they don't really help your account a lot. They also lack transparency and I wouldn't classify it as safe to use. All things considered, I'd say it's not worth it.
In my Rocket Social review, I go into details on how it works, so feel free to check it out.
6. Firing Table
Firing Table claims to provide only organic growth, but they actually use a lot of automation. That high level of automation won't help your account grow, it will only put you in danger of getting banned.
The bottom line is- it's just not worth it. Why? The concealed bot activity is very dishonest. Also, they overcharge for the service, and you can't get a refund. In this Firing Table review, you can get the whole truth.
7. Instarabbit
You can find the complete info about it in my detailed Instarabbit review, but in short, this service is not the right choice if you want only organic growth. They sure promise organic, but there's no sign of it.
It's not the worst, but it's certainly not the best service. I'm leaning a bit more towards no, simply because there's a chance it'll bring bots to your account, since there's no organic growth.
8. Ampfluence
Truth be told, Ampfluence's quality of service is neither here nor there. They interact a lot with fake accounts, which can have numerous negative consequences. Also, there are a lot of promises of organic growth, but the truth is somewhat different.
Ampfluence asks for a lot of personal info, including your home address. This, combined with all the bot-like activity, equals unworthy service. If you're interested to know more, you can find out everything in my Ampfluence review.
9. WorkMacro
WorkMacro turned out to be a classic bot, although advertised differently. You know what this means – a high chance of increased bot activity, which more often than not, leads up to bad stuff, like a block or ban.
They ask for all your personal info, which is completely unnecessary, if you ask me. Furthermore, they can get you in trouble with Instagram, so I guess they're not really worth it. You can read all about their shady actions in my WorkMacro review.
10. iDigic
iDigic won't help you that much – at least not as much as they promise. There's a lot of bot activity associated with this service, which is a huge red flag.
Considering their price points, I'd say maybe skip this one. Since safety is not guaranteed, it's not really worth it. To get the whole idea of what iDigic is, go through my iDigic review.
11. Social Sensei
The truth about Social Sensei is kind of complicated. They've been accused of not delivering the promised service, so I'm afraid there's a chance you won't get much out of it.
Whether it is worthy is still debatable, but I'd say it's more no than yes. They are overpriced and their service is not up to par. You can read all about it in this Social Sensei review!
12. Social Flight
I wasn't impressed by Social Flight – their functions are quite simple. They have no way of keeping bots away from your account, so there's a constant threat of getting banned or blocked. Overall, it doesn't help you much.
Should you trust them?
I'm gonna go with no. They are way overpriced, and they offer a lot of empty promises. To find out what they really are, dig into my Social Flight review.
13. Kicksta
Kicksta can actually do more harm than good to your account and your presence on Instagram – the service is not completely legit nor safe.
Your account could get banned and there's no real organic growth. Curious to know why it's not worth it? Find out in this Kicksta review.
14. Trusy Social
Trusy Social provides fake followers and engagement, which means it won't help grow your account in the right way. On the contrary, your account could end up blocked or banned.
For what it is, Trusy Social is very expensive, and there's no free trial. Given how unsafe it is to use, my final verdict would be that it's just not worth it.
You can get all the info about this service in this Trusy Social review.
15. Getriver
The main problem I have with Getriver is that it's a bot in disguise. While their claim otherwise, their high bot activity is undeniable, and it can only get you one thing – a ban from Instagram.
For the basic features they offer, Getriver sure is pricey. If you add their dishonest practices and concealed bot activity, you get one untrustworthy service. To find out how they really operate, read my elaborate Getriver review.
16. AiGrow

AiGrow doesn't work at all for some users. And if it works, the chances are you'll get fake followers or your account will get blocked and/or banned.
Should you give it a shot?
In my opinion, it's better if you don't.
They are very dishonest, and their practice of charging unsubscribed customers makes it really hard for me to trust them. If you want to know why I'm not such a fan of this service, read the complete AiGrow review.
17. Popsocial
Popsocial is actually a bot, although they claim otherwise. It won't be helpful much since it involves high bot activity and Instagram's rules about bots are pretty clear.
What's the final verdict?
I'm afraid it's just not worth it. For an extremely high price, you get fake followers and the ever present threat of getting banned. If you still want to know all about it, you can peruse my Popsocial review.
18. Sogro
The main problem with this service is that there's a chance it doesn't work anymore, but it continues to charge clients, and some people are having a hard time trying to unsubscribe. The possibility of it being a complete scam is high.
So, naturally, I can't recommend you try it out. This shouldn't be surprising considering what the service is and how it operates, which you can find out in detail in my Sogro review.
Final Word
Opting for just one Instagram growth service when there are so many options available is a real struggle.
You have to consider many factors, such as secure payment gateways, risks associated with using each service, whether it's a scam or not, and countless more.
That's why I decided to help you by separating the good from the bad in my comprehensive reviews. You have all the information available in one place, so it's not only useful, but it's also quite convenient.
All that's left to do now is for you to choose a growth service that best fits your needs!