If you're reading my Path Social review, I take it you're here to find out the real truth about this service.
I understand your concern – there are just too many Instagram growth tools, and it can get pretty nerve-racking figuring out who to trust.
But don't fret, I got you.
As the title says, today I'll tell you all about the service called Path Social.
What's their deal?
Are they the right choice for your, or should you avoid them like the plague?
I'm kidding, of course. But seriously, how safe are they?
Find out below!
Other Popular Instagram Growth Tools
What Is Path Social?
Path Social is essentially an Instagram growth tool, although it's advertised as a social media agency.
Other than sounding fancy, the agency thing doesn't really mean anything since this is a classic Instagram tool.
Their main promise is organic growth. Who's shocked? I'm not.
When you stumble upon a company that claims to provide only organic growth, never take it for granted. More often than not, the reality is exactly the opposite.
Is it also the case with Path Social?
Odds are, yes, it is.
But why is it an issue if the growth isn't organic?
Organic growth is the one that involves a human factor. There are some services that are bots, in the sense that they let a bot perform certain tasks, but they also have a real human who supervises the bot.
If that's the case, it means you do get organic growth since that supervisor will make sure the bot activity looks as natural as possible. So, I'm not talking about those services.
I'm referring to the companies that completely rely on the use of Instagram bots.
Instagram has a zero-tolerance policy when it comes to bots, so if you get caught using one, it's likely your account will get banned.
This is the main reason bots get a huge no from me.
Popular reviews you should also read:
How Does Path Social Work?
When you visit their website, it looks alright. Nothing spectacular, but sometimes less is more, right?
The site is fine, I'll give them that. I have a bigger problem with what it says than how it looks. Why?
Well, for many reasons. One of them is a section called Case Studies. There you can find various stats and numbers that are too good to be true.
For example, they listed a few IG accounts with info on how much followers they gained through Path Social, and all the numbers are in tens of thousands.
Do you know what happened when I tried to find those accounts on Instagram? Nothing happened – they don't exist.
So, back to the matter at hand – how does Path Social work?
Getting Started With Path Social
The process is simple:
Go to the official website pathsocial.co
Click on the button "Get Started"
You'll need to choose one of their two plans right away (more on them in a second).
Input Instagram handle and email
Proceed to payment
When that's done, you need to select a target audience by adjusting some filters
Sit back and watch Path Social do its "magic"
One thing I appreciated about Path Social is that they don't ask for your password. However, you have to give them credit card info since you have to pay right away – there's no free trial.
Should you leave sensitive info? Find out in the upcoming sections.
So, what does Path Social do to grow your account?
Well, it's hard to tell.
Believe it or not, Path Social's website has no info whatsoever about how it grows your account. There isn't even a features section.
All they offer are Pricing, Case Studies, Reviews, and Contact. And two of these are likely filled with fake info. Can you guess which?
I tried to dig out reviews from past users, but there's shockingly little on famous reviews sites. For example, there are only a couple of reviews on trustpilot.com, and they are both 1-star reviews claiming Path Social is fake and that you shouldn't trust them.
From the little I managed to find online, here's what I gathered about Path Social's features.
Path Social Features
Audience Targeting
I mentioned earlier that you need to adjust a few filters upon signing up. Let's see what they are.
The main filters include hashtags, geotags, age, and gender.
How good are Path Social's targeting abilities?
According to those few reviews, extremely poor.
Most of the time, the tool would completely ignore the filters and just interact with random accounts that happen to be either bots or people completely uninterested in your content.
Interaction
Grabbing people's attention is an excellent strategy to grow your account. But it has to be done in the right way.
And how does Path Social do it?
First of all, one of the main complaints from their clients is that the tool is immensely bot-like.
Secondly, this tool interacts with fake accounts. Since it has poor targeting algorithms, it attracts bots, which can lead to a termination of your account once Instagram finds out.
Path Social Pricing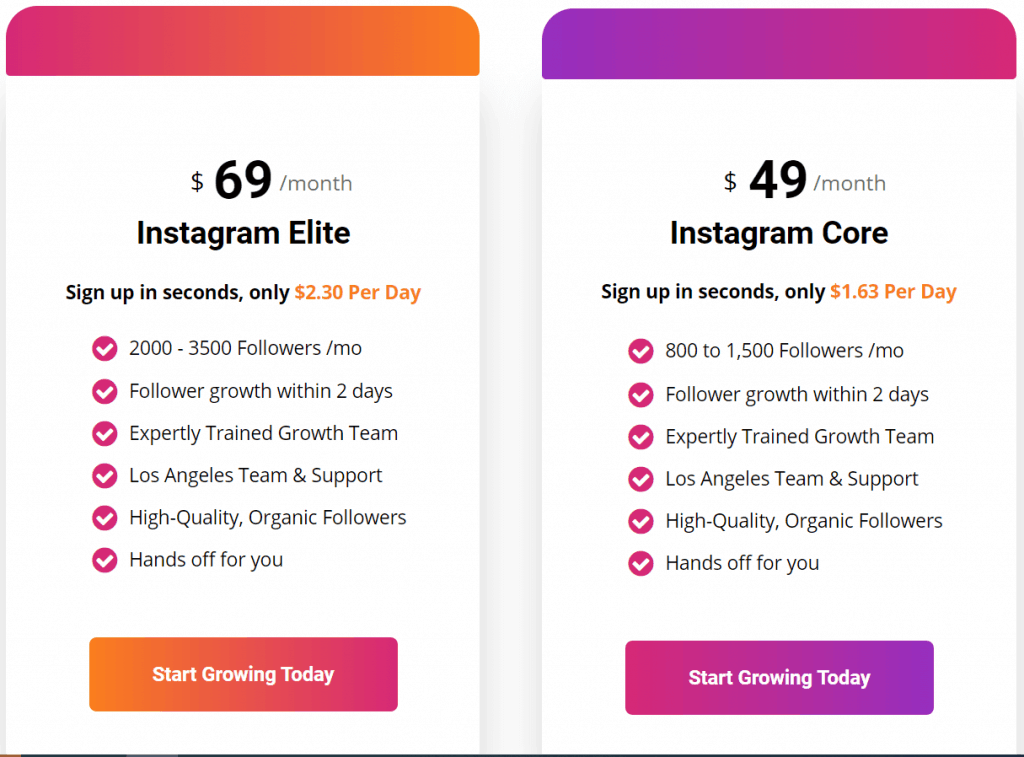 Path Social offers two tariffs – Instagram Elite for $69 and Instagram Core for $49.
See how they promise a certain number of followers? The truth is, you can never know how many followers someone will gain through organic growth, which tells us we are dealing with a bot.
Do you notice how even here, it doesn't say what kind of features you get in each package? Path Social is extremely vague about its practices.
Is Path Social Legit?
Okay, here's my problem with Path Social.
Their website seems to be secure, but they got their SSL certificate for free from Let's Encrypt, where basically anyone can get it. So it doesn't really tell me for sure whether they're 100% legitimate or not.
Moreover, based on Trustpilot reviews, Path Social makes you pay right away, and then you never hear from then again. And this happened to more than one user.
I think it's pretty clear this service is not legit.
Is Path Social Safe?
Unfortunately, I don't think it is.
The service claims to be organic, but it's clear as day it's a bot. Plus, Path Social's unscrupulous tactic of taking money without providing a service means you shouldn't trust them.
PROS and CONS
| PROS | CONS |
| --- | --- |
| They don't ask for your IG password | Obvious bot activity |
| | Vague info on their growth strategies |
| | No free trial |
| | You can get banned |
| | Reviews from scammed clients |
Path Social Review: Final Verdict
So, how reliable is Path Social?
I have to say it's not reliable at all.
From the moment you go to their website, something smells fishy. And it doesn't get better at any point.
This is exactly why it's important to research a service before you try it out. Now you know who not to trust, and you can keep looking for an honest and trustworthy organic growth service. Good luck!
Top 10 Instagram Growth Tools
Want to get more organic followers on Instagram? Check out some of the tools below. We've tested the most popular ones for you.