All Instagram growth tools pretty much do the same thing. But, once in a while, an innovative company pops up. It introduces new functions and boasts with the results it could get you. Usually, the motivation for innovation is bypassing Instagram's algorithm.
Masspoller is one such service. It claims it can help you bump up your account without getting impeached by Instagram. I wasn't convinced that this is true, so I looked into it deeper.
Can Masspoller do what it says it can? Is it safe to use?
You can find the answers in today's Masspoller review. Scroll on!
What is Masspoller?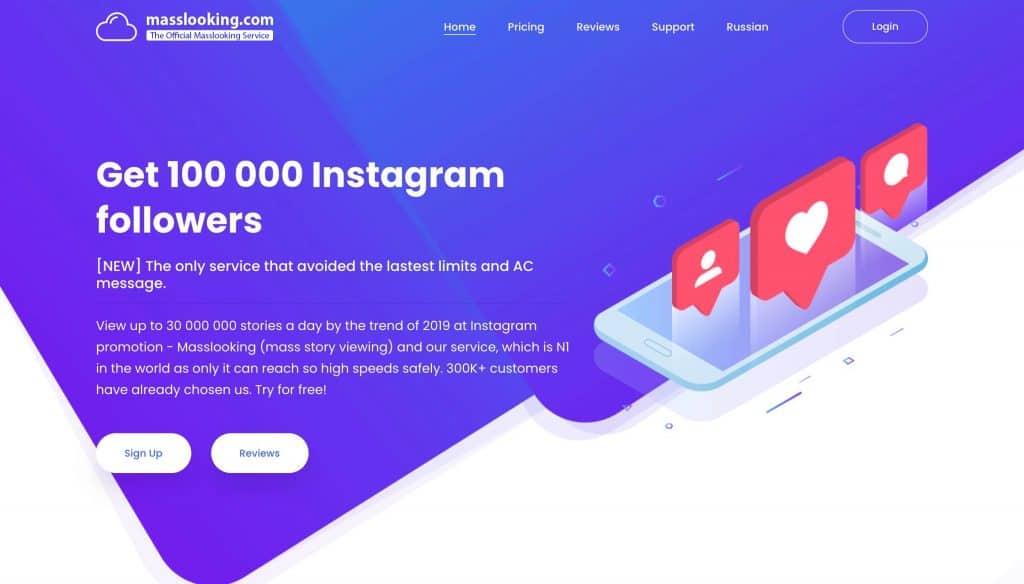 Masspoller is…not working?
The domain masspoller.com contains the website for Masslooking, a story viewing software. This is confusing because Masspoller was a new and improved version of Masslooking. Now, it seems like they reverted to the old website. On it, there's no information about Masspoller at all.
What's the deal with this?
Even though you won't find any info about it on the homepage, Masspoller is still available. You can see it only when you register and get access to the dashboard.
As I mentioned, the Masspoller Instagram growth service was an upgrade of Masslooking.
Here's how the story goes:
A while ago, automated story viewing became quite risky. Instagram started action blocking and banning people who used it. Then, the team behind Masslooking developed another tool – you guessed it – Masspoller.
Masspoller, as the name implies, automates voting in Instagram story polls. It also engages with quizzes, questions, and sliders. This approach seemed to have fooled Instagram for a while. However, the platform soon caught up, and Masspoller's customers started getting banned.
But that's not all.
The company's services weren't running smoothly, to say the least. Was that why they made Masslooking the focus of their website again? I'll talk about this in more detail later in the article.
Other Popular Instagram Growth Tools
How Does Masspoller Work?
First, you have to sign up on their website – masspoller.com. Once that's done, you connect one or more of your Instagram accounts.
The next step is to pick and purchase a subscription. They also offer a free trial, so you could get started that way.
After that, you access the dashboard where you adjust your preferences. Targeting is the first thing you need to take care of. Next, choose that you want the tool to do (polls, quizzes, sliders, etc.).
Finally, let the app roll and do its thing.
It rolled fine, for a while. Then, Instagram's updates started messing with Masspoller's operation. The service can be down for days, even weeks at a time.
Popular reviews you should also read:
Masspoller Features
What features does Masspoller encompass? It doesn't have too many, but you might find them interesting. Learn all about them below.
Instagram Story Poll Engagement
Masspoller's main feature is automated voting in Instagram story polls. At the time it was created, it was a clever substitute for viewing, which became risky.
The tool participates in thousands of polls daily. It aims to catch people's attention and lead them to your profile. The options in polls are categorized as popular, unpopular, or random. You can pick which one to vote for.
Is this method effective?
In the beginning, it was. But, as Instagram caught up, the service started facing more and more problems. As I said, the software is sometimes down for extended periods of time. Its users are getting banned on a mass scale. In other words, it's not safe to use anymore.
Instagram Slider/Quiz/Question/Countdown Engagement
Aside from polls, Masspoller can engage with any interactive feature on Instagram stories. These included sliders, quizzes, and questions.
In quizzes, the app selects the correct option. Questions are answered either with an emoji or a custom message. On sliders, it picks a random percentage.
There's nothing to add here, except that all this was useful once. Then, it stopped being safe and the tool stopped functioning as it should.
Audience Targeting
The app allows you to target followers of other accounts. The idea is that you can use this feature to engage with followers of your competitors. Masspoller engages with their stories and (hopefully) makes them notice you.
Customer Support
You can contact the customer support via Facebook Messenger. It's responsive, and hardly anyone is left without a reply to their question.
However, the replies are rarely helpful.
The staff, ironically, doesn't know much about the technical details of the service. They provide generic answers and hope that you'd go away.
Masspoller Pricing
The pricing part is confusing.
The website shows three subscriptions: Regular, Wholesale, and VIP. The VIP package costs $155, while wholesale is 90% of VIP's price. The Regular subscription is free.
Remember, despite the domain masspoller.com, the website contains information ONLY about Masslooking. So, do these prices refer to Masspoller as well? Do you get a new pricing list just for Masspoller once you sign up?
Beats me.
All I can say is that this is a sloppy way to run a business. If you asked me, I'd say that there are no visible prices of Masspoller's services displayed on the website.
Is Masspoller Legit?
No, I wouldn't say that it is.
Right from the start, the company instills confusion into your mind. I explained the situation with their website several times already.
Is it Masspoller or Masslooking, or both? Why isn't there a single word about Masspoller's services on a domain that bears its name?
The company is either trying to remain secretive, or it doesn't care about its reputation.
Speaking of reputation, customer reviews on Trustpilot.com bury it. One person claims how they paid for a month of services, and the software didn't work for two weeks. They couldn't pause their subscription, and customer support wasn't helpful.
This review barely scratches the surface. You have to read them all to get a clearer picture of Masspoller's misconduct.
Is Masspoller Safe?
Masspoller is not safe to use.
Even though their approach worked in the beginning, it doesn't anymore. Using it will get you action blocked or banned from Instagram.
Moreover, I've seen complaints from customers who were scammed for their money. They paid and never got any services. Some continued getting charged even when they unsubscribed.
PROS and CONS
| PROS | CONS |
| --- | --- |
| It used to be an innovative service | It gets people banned on Instagram |
| | Their website contains no information about Masspoller |
| | Confusing pricing lists |
| | Customer support isn't very helpful |
| | Mostly negative reviews on Trustpilot.com |
| | The service is down often |
Masspoller Review: Final Verdict
Is Masspoller a scam?
All that I read about it points to that conclusion. The service almost never functions, and its online presence is mysterious. On top of that, it's just a mass poller Instagram bot – it's best to stay away from it.
Luckily, you've got plenty of other options. My advice is to focus on organic growth and find services that can help you achieve it. I've mentioned a few of those in the table below.
Top 10 Instagram Bots
There are tons of Instagram growth tools out there that promise the same thing – to grow your Instagram account for you.
The sheer number of such services can be intimidating and you might not have a clue what's good and what's a scam.
Luckily for you, we've took it upon ourselves to test as many as we can. Check out the table below for our favorite few!