In the golden age of social media, Instagram is indisputably the number one platform for entrepreneurs and influencers who want to establish their presence and make a name of themselves.
But here's the main problem.
When there are literally a billion active Instagram users, how on earth are you supposed to do that? Is there a special formula for standing out among millions of people?
Well, there is one thing you could try that's proven to be helpful – an Instagram growth service.
In this review, I want to talk about a service called Ektor.
What is it? Is it a scam or is it worthy of your trust?
You can find out all in my Ektor review so let's get into it!
What Is Ektor?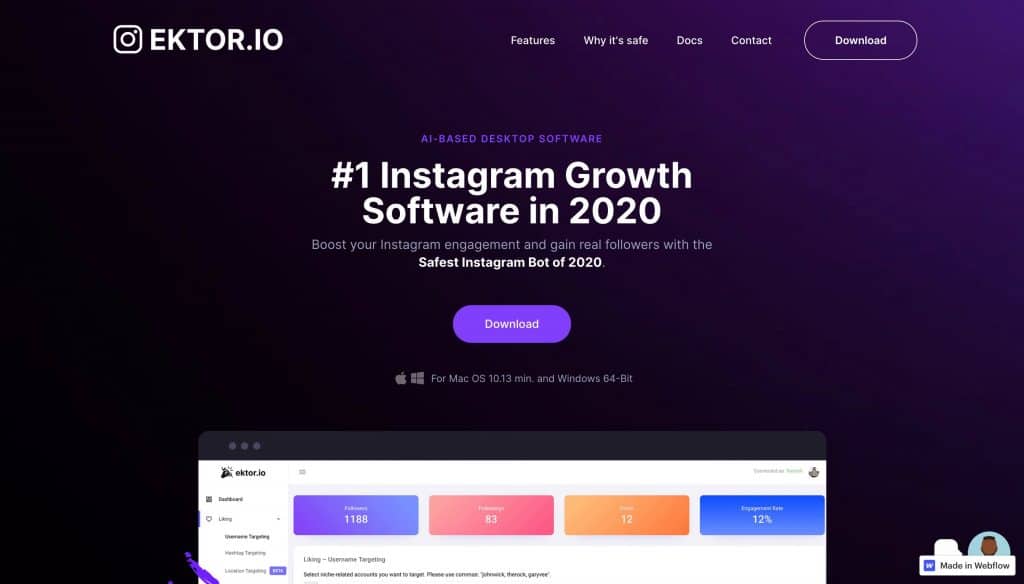 The first thing you do when you hear about literally anything new is, of course, Google it. What happens when you Google Ektor?
Their website is kind of difficult to find since the first thing that pops up is a Czech rapper. Apparently, he's big in the Czech Republic.
So, to find the Ektor I'm telling you about, you have to search for Ektor Instagram Bot or go directly to their website: ektor.io.
So what is Ektor?
Not a rapper, but an Instagram bot. I decided to try this one and see first hand what it is and how it works.
According to its website, Ektor is AI-based desktop software. It boosts your Instagram engagement and helps you gain real followers.
Is there any truth to this? Or is it pure hokum?
Let's find out.
Other Popular Instagram Growth Tools
How Does Ektor Work?
I mentioned it's a desktop software, which means the first thing you'll need to do is download it to your computer. There's a version for macOS and Windows.
The download is straightforward – you just click on a few 'next' buttons, agree to their terms, and that's it. Once you do that and launch the app, you need to log into your Insta account. From there on, the real action happens.
You'll have access to the dashboard where you can choose which feature or task you want Ektor to perform.
The features include liking, commenting, following, unfollowing, and story views, but I'll tell you about each feature separately in a little bit.
Ektor can only run one action at a time, for stealth reasons. You can always stop the current task manually on the dashboard.
Admittedly, the software was very user-friendly, and I didn't have any trouble managing my account and actions.
My bigger concern was that Ektor doesn't really give you a detailed overview of how they work. So, you get info regarding final results and what you can expect to happen, but what I wanted to know more was their strategy and how they planned to achieve all that.
I got the sense that Ektor is not a very transparent company, and that raised some questions.
Popular reviews you should also read:
To be fair, I did find a bunch of positive reviews about the firm on Trustpilot, but there were also reviews with a negative tone every now and then. Perhaps more often than you'd like.
It helped that negative reviews had the same concerns as I did, but my final opinion was still neither here nor there.
To give you a better idea of why I was second-guessing this service, let's get into details about all the features they offer.
Ektor Features
I have to admit, I was excited to try out Ektor. I wanted to check out all the features and see which ones actually worked.
Hashtag Targeting
Like most other bots, Ektor also performs based on hashtags. On your dashboard, you have a section where you can choose specific tags and it will follow people and like posts based on them.
What I understood from most of the negative reviews is that this feature wasn't the best one. The software just isn't the best at separating selected hashtags from other ones so a lot of the times it follows based on random hashtags.
This can often bring unwanted attention to your profile and there's always a chance it will pick up some bots along the way.
I was worried about bots coming to my profile. Eventually, they came, but not enough of them for Instagram to notice right away.
Username Targeting
To be honest, this one wasn't half-bad. It's a good way to gain more followers from your niche.
By leaving Instagram handles of your competitors, Ektor can follow their followers and turn the attention to you.
The only problem can happen if that particular account has fake followers, so you're literally attracting bots, but this is something you can never know, so you gotta take a risk.
Most of the time, the risk pays off.
Mass Story Viewing
This is one way to make people notice you – Ektor can watch thousand of Insta stories for you. It could work if the tool views stories of people who are interested in your content so they might consider following you.
If not, you're just some random account that watches random stories.
Commenting
You can also get Ektor to leave comments on posts. Again, based on hashtags, it will find posts and leave comments with simple words you can set up in settings, or you can make your own templates.
This feature can be a bit tricky since the tool can't actually get the context of a post, so if the comment completely misses the point, it can be embarrassing for you.
Popular reviews you should also read:
Flock Social Features
As I continued to scroll down their main website, I was eagerly searching for a list of their main features as I strongly believed that their price-to-value ratio wouldn't disappoint (more on their pricing later).
Luckily, Social Flock continues to bring in the good news, especially when it comes to:
Targeting Options
Most social media growth platforms don't have a lot to offer in this department, as they mainly function by providing you with Instagram bot services.
However, when you have a genuine business model that strives to elevate your social media rankings, their services usually consist of the following:
Hashtag targeting
Influencer and Competitor targeting
Location targeting
This is only a glimpse of their primary mechanisms – the entire list marches forward extensively.
Personal Account Manager
As I already mentioned, Flock Social offers a wide range of professional Instagram account managers that will observe and supervise your social media growth from day one.
Ensuring the safety of your precious Instagram account, as well as maintaining a meaningful Instagram growth procedure – your personal account manager will stay by your side at all times.
Priority Support and Consulting
It's a good feeling knowing that you have someone to take care of your problem when and if you have one – a personal account manager will reach out to you shortly after you appoint a meeting through messages or, eventually, a voice call.
I didn't joke when I said that they stay by your side – every step of the way!
Popular reviews you should also read:
Flock Social Pricing
In most cases, social media growth platforms deemed unfaithful will try to hide their business plans and pricing packages, revealing them only during the last few steps before the transaction is completed.
With Flock Social, no faulty agreements and secrets are lurking behind – two plans are presented, and depending on your wishes, you may choose between the beginners and advanced packages.

Personal Instagram profiles will usually lean toward the beginner's package, as they don't necessarily wish to engage with countless people but just slightly boost their social media presence every month.
However, the advanced packages should be used by larger profiles eager to contend with other Instagram profiles with a large audience behind them, if you ask me. But everybody's free to use a plan they see fit for their needs since that's what's most important at the end of the day.
Is Flock Social Legit?
Trustpilot is a reputable source of user feedback. Currently, you can find a total of 116 reviews on Flock Social. Although we are primarily focusing on the Flock Social reviews – you can check other reviews for similar online companies that delve into social media growth.
Both people from Trustpilot and my personal experience will lead you toward the same conclusion – Flock Social is a legit social media growth platform.
PROS and CONS
| PROS | CONS |
| --- | --- |
| True conversations | The monthly plans are slightly pricey. |
| Real engagements | |
| Targeted followers | |
| Instant delivery | |
| Excellent customer support | |
Flock Social Review – To Sum Things Up
What's there else to say?
Average social media growth platforms can't compete with the overall services and trustworthiness that surround Flock Social. Still, I was eager to give you my take on Flock Social review, just to be safe.
At the end of the day, it's better to hear from one more person what they thought of a product or a service since that's what bases the general sentiment towards it on the market.
As I was digging around for answers regarding Flock Social, I found that it's a successful company that takes care of your beloved Instagram profiles with tenderness.
Stay tuned for more reviews on social media growth platforms!
Top Instagram Growth Services
Before you depart, I highly recommend you take a quick look at the table below, which contains the most reliable organic growth companies!
Ektor Pricing
Since it's a desktop app, Ektor has a different pricing system.
They don't have the typical monthly subscription. Instead, they have one-time payments for each of the three packages.
The bummer is that there's no free trial, so you have to pay if you want to use it,. How much, you might ask? Well, here it is.
The good thing is there's a 14-day refund, and if you have any problems, you can contact their customer support that's available 24/7.
Is Ektor Legit?
I have to say, Ektor seems like a legit business. They're not perfectly clear about their strategies, which kind of ruffles my feathers, especially because it's a software you have to download to your device.
But other than that, there's no real reason to doubt them.
Popular reviews you should also read:
Is Ektor Safe?
Ektor has a safe website, secure payments, and the software appears to be safe as well.
So, all things considered, I think Ektor is safe to use, except for the occasional bot follower.
PROS and CONS
| PROS | CONS |
| --- | --- |
| 14-day refund | Sometimes it attracts bots |
| CS is available 24/7 | Not transparent about their strategy |
| | No free trial |
| | Targeting filters are not the best |
| | You need to download the software |
Ektor Review: Final Verdict
So, what happens when you use Ektor?
Truth be told, I'm just not impressed. Did it help me gain some followers? Yes. But was I blown away by the result? Definitely not.
The problem is that this tool doesn't help you grow organically, and you want one that will. Luckily, there are many such services out there, you just have to find them.
Top 10 Instagram Bots
If you're looking for an organic growth tool, look no further! Check out the table below for some of our recommendations.