Social media platforms are a potent ground for marketing, especially Instagram.
However, it's essential to post a constant flow of original content to your profile. Engagement with your followers is crucial too.
That said, it can be really overwhelming at times to manage to balance out these two factors. Some users are struggling to identify which strategy to implement and what to post, while others know exactly what they want but don't have enough time to pull it off.
I've also been there.
Thankfully, there's a slew of Instagram marketing tools that ease the whole process for you.
Autoinsta.me was one of them. You may or may not know this, but it doesn't work anymore.
So, what happened to Autoinsta? Are there any Autoinsta.me alternatives?
Read more about that in my Autoinsta.me review.
What Is Autoinsta.me?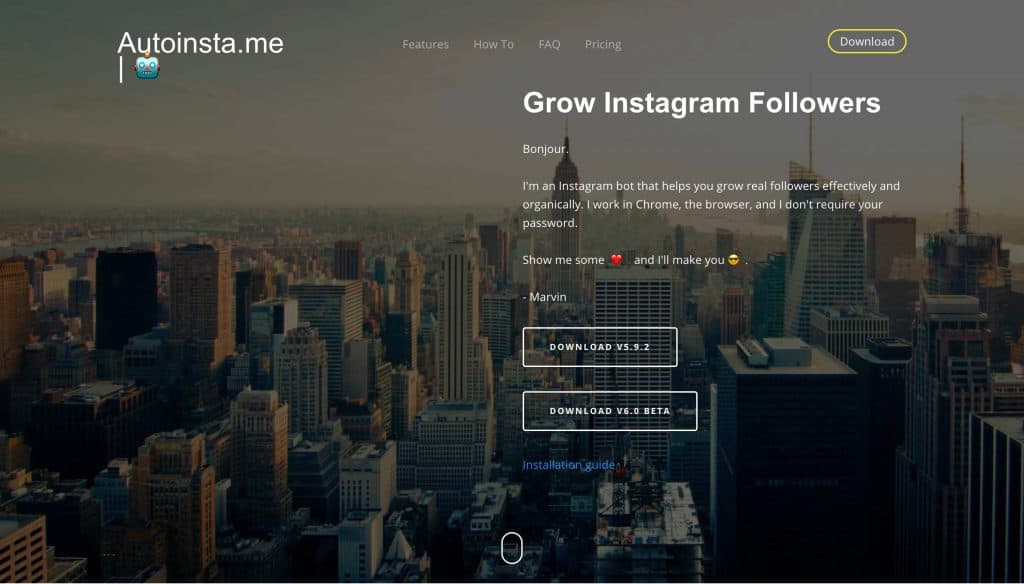 Autoinsta was an Instagram bot. They didn't try to conceal their nature, which many tools do, as Instagram bans bot activity.
However, there was an AutoInsta shut down precisely because of the fact that they violated Instagram's Terms and Conditions. It was a period when many companies got sued by Facebook for aggressive bot campaigns.
After their website hadn't worked for a certain timeframe, it seems that they have made a new Autoinsta.me version that functions as a Google Chrome extension.
In its core, Autoinsta.me is still an Instagram bot that likes, follows, and unfollows other accounts instead of you.
On its official website, there's a claim that the bot grows your followers "effectively" and "organically." Based on my Instagram marketing experience, I'm not convinced that "bot" and "organically" can stand side-by-side.
Top Autoinsta.me Alternatives
How Does Autoinsta.me Work?
Autoinsta.me offers nothing spectacular. Just like any other bot, it performs Instagram actions on your behalf.
In particular, this one focuses on likes, follows, and unfollows.
It also claims to find target users by using filters, but we'll see about that.
Does Instagram always ban Instagram bots?
Most of the time. Here and there, you'll come across a bot that actually works and doesn't get your account blocked, but it is very rare.
Popular reviews you should also read:
How to Use Autoinsta.me?
As I mentioned, this Instagram bot works as a Chrome extension, and I must say that the installation process is quite a hassle.
First, they require you to download the extension from their official website, Autoinsta.me. There are two versions of the extension, and one of them is beta. It's perfectly understandable if you don't feel comfortable downloading 3rd party software, especially when it's a tool that was canceled.
You will basically download a compressed zip file named "release" (seems shady, doesn't it?), and you should unzip it to a folder.
Then, you should go to the Extension Management page in Chrome by selecting Options – More Tools – Extensions.
Next, you should enable the "Developer Mode" and click "Load Unpacked Extensions." Finally, you ought to select the extracted folder.
This procedure will enable the extension. After you log in to your Instagram, the bot should perform its actions. Bear in mind that the browser has to be running in order for it to work.
Now, let's move on to the performance.
Autoinsta.me Features
Autoinsta.me offers a couple of (pretty basic) features:
Filters
The bot supposedly discovers your target audience via filters that you enter (hashtags, location, accounts, bio keywords), but this feature doesn't seem to work.
Automated Activity
It performs three Instagram actions instead of you:
Follow (based on your filters)
Unfollow (users that don't follow you back; you can whitelist your friends to exclude them from this feature)
Like posts (based on your filters)
It doesn't even try to incorporate DMs and/or comments that are nowadays pretty common for bots.
They claim to use recommended limits for activities they perform so that Instagram does not detect anything suspicious.
But the thing is that most of the time, there's no activity whatsoever from the bot – and when it actually does something, it will get your account banned.
In the end, it feels like choosing between the lesser of two evils.
Pricing of Autoinsta.me
Autoinsta.me has only one pricing plan and a free trial:
By default, you have a three-day trial Autoinsta.me period, which can be extended to 10 days if you confirm your email.
The Standard plan includes all the features, and it's $5,99 a month. Objectively, this is cheap. But as Autoinsta.me doesn't work, it's nothing else but a scam.
Is Autoinsta.me Legit?
Autoinsta.me was banned because it worked against Instagram's policy, and now there's a new version. I'm not sure whether it's the same company, but I'd say so – and they still haven't managed to make it work.
Therefore, IMO, Autoinsta.me isn't legit.
I couldn't confirm whether other users had the same experience as me because there were no Autoinsta.me reviews on reputable websites such as Trustpilot.com.
Autoinsta has this thing called "Rewards Program" that gives you free services if you write a post, make a video, or tweet about your Autoinsta.me success story. They even have a price list with "the amount of effort you put in" and their reward.
For instance: make them a 3+ minute YouTube video, and it will get you anywhere from 6 to 12 months of services, depending on the views. Write a blog, Reddit, or Tumblr post about them, and they will give you from 1 to 6 months.
See for yourself:
This made me question every positive Autoinsta.me review I found online.
Also, it's impossible to find out who they really are. There's no live chat support, or even the possibility to leave them an onsite note. They leave a generic email address – autoinstapp@gmail.com – but no one responded to my inquiries.
Is Autoinsta.me Safe?
You cannot be 100% sure when you're downloading 3rd party software from the Internet. Autoinsta.me passed my antivirus test, and it seemed not to be malware, but still, it felt unsafe.
Plus, when you use Chrome extensions (especially those that are not from the Store and require you to enable the Developer Mode), your information is at risk of getting stolen, and you have to be careful at all times.
So no, I wouldn't say that Autoinsta.me is safe.
PROS and CONS
| PROS | CONS |
| --- | --- |
| Doesn't require your password | It doesn't really work |
| | Gets your IG account banned and blocked |
| | Chrome extension |
| | Complicated to set up |
| | Doesn't target audience |
| | Has to be downloaded |
Autoinsta.me Review: Final Verdict
Autoinsta.me was removed because it violated Instagram's Terms and Conditions. Now it seems they are trying to get it back up, but it still doesn't function the way it's supposed to.
Besides, the bot growth is outdated, and it cannot boost your IG permanently.
What I found that actually works is an organic strategy. It allows you to bring a targeted audience and increase engagement for your brand or business. You can refer to the table below to find some Autoinsta.me alternatives that will bring you real and organic followers.
Top 10 Instagram Bots
Like I've mentioned, growing your account organically is the best way to do things in the long run.
Luckily, there are some growth tools out there that can help you achieve an organic growth. If you're looking for recommendations, check out the table below for some of our favorites!