Regardless of which business you're in, dealing with competition is inevitable. If you don't find a way to deal with it and to stand out, you could easily succumb to the pressure of the game.
In the automation industry, some companies simply weren't made to last. Whether they deservedly shut down or not, the fact is – only a few survive, and even fewer thrive.
Today's topic is a service called Instanobel. I wanted to inspect it closely and find out what really happened to it.
Why was Instanobel shut down? Are they at fault or was it completely unfair?
If you're interested in finding out more, read my Instanobel review!
What Is Instanobel?
Instanobel called itself the number one Instagram promotion service with a powerful functionality designed to advertise you and your content.
What was it really?
An Instagram bot. They just had a fancy way of saying it.
Instanobel, of course, claimed it could grow your account organically. My advice is – don't ever fall for this because bots love to use this term and, in most cases, what they offer is far from organic growth. It's actually the opposite.
But was it also the case with Instanobel? Stay tuned to find out.
Top Instanobel Alternatives
Getting Started With Instanobel
Instanobel was somewhat simple to use. It was web-based so you didn't need to download any kind of software.
What you had to do is sign up with an email address and a password. After that, you needed to connect your Instagram. This step was a bit complicated as it required you to do the following:
Give them Instagram credentials
Confirm your credentials through email
Receive a code via text from Instagram
Use the code to confirm your account on the Instanobel website
Honestly, this process seems unnecessarily complicated and you had to give them your full credentials, which most people don't feel safe doing, and may I add – rightfully so.
How Does Instanobel Work?
So, how did Instanobel work?
The first step was adjusting the filters. They were typical filters for bots – hashtags and geotags.
Setting them up was very simple, you just had to be careful with your selection.
Did the filters actually work? It's debatable.
Popular reviews you should also read:
According to a few reviews on Trustpilot, Instanobel wasn't the best at filtering, so even if you left specific hashtags and geotags, it would still often follow random hashtags, which would in return get the attention of random users outside of your niche.
Plus, a lot of the attracted profiles were actually bots, but that's a whole other problem.
Besides the likes and follows, Instanobel also offered to automatically post your scheduled posts.
Let's dive into each separate feature so I can tell you whether they really worked or not.
Instanobel Features
Instanobel didn't have a lot of features, there were only a few ones. Some were questionable, but based on the reviews, there were a couple of alright ones.
Workflow Management
Instanobel had a dashboard where you had 24/7 access to your account's progress. You could check the statistics and analyze the work as it gets done.
It was very convenient to switch between accounts on the dashboard, but needless to say, you had to pay more for the additional accounts.
The dashboard was nothing spectacular, but it was an easy way to track your account.
Auto Follow
The auto follow feature was their main thing and their whole strategy was based on it. So, Instanobel wasn't a service that sells followers, they would just try to attract them to your profile through some tactics and hope they would follow you back.
Were those tactics well thought out and carried out?
Well, that's still up in the air. Here's the main problem about this one.
The auto follow feature is generally a precarious one. If the service doesn't have impeccable filters for sorting out accounts from one's niche, the risk of ending up with uninterested and fake followers is high.
And this was Instanobel's issue – they attracted too many bots.
On top of this, you couldn't adjust the time period when it would follow nor the number of accounts it follows per hour or per day. This led to 'overfollowing' which told Instagram there was a bot at hand.
Auto Likes
It's the same with auto likes. Without time settings, a bot like Instanobel can easily get your account action blocked, so you can no longer like posts for a while (until you get unblocked).
While the exact reason for Instanobel's downfall isn't known, most people (including me) believe it was due to too much bot activity.
They were shut down due to a request by Facebook, who owns Instagram, and bots seriously violate their terms of conditions.
After all, this isn't the first bot to be shut down by Facebook, and it's definitely not the last one either.
Schedule Auto Posting
Another feature offered by Instanobel is auto posting. This one is really useful, and the least bot-like, since you have full control of the periodicity at which it will post.
Auto posting takes a lot of responsibility off your hands, so it's no wonder users liked this feature the best.
Auto Comment
Auto comment feature came together with auto likes, and it was kind of a let-down. Let's just say it didn't work well, so people would just avoid using it. 
Instanobel Pricing
Instanobel was one of the affordable services. Their packages were budget-friendly, but they included only one account, so it may have been a different story if you had multiple accounts.
Let's take a closer look at the packages.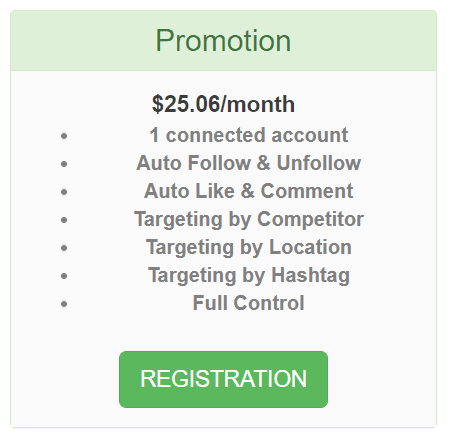 The Promotion package is $25.06/month and the other two cost $14 per month, but here's the trick. You could get one plan that included all of the functionalities for $14 as well.
This one certainly paid off the most.
Oh, and you could also get a 3-day free trial, but once you paid, they wouldn't offer a refund.
Is Instanobel Legit?
Since they don't exist anymore, any answer to this question is a moot point.
A better question would be: Did they deserve to close down? And the answer is simple – yes. They violated the terms and there's no room in this game for rule-breakers.
Is Instanobel safe?
While it existed, Instanobel had a secure website and payment gateways. It wasn't a fraud in that sense.
But did it make your presence on Instagram unsafe? Totally.
Bots are against Instagram's terms and conditions and there's no going around that.
PROS and CONS
| PROS | CONS |
| --- | --- |
| A couple of okay features | Doesn't exist anymore |
| Reasonable prices | Too much bot activity |
| | No refunds |
| | Possibility of getting banned |
| | High chance your account gets action blocked |
Instanobel Shut Down – Final Word
Did Instanobel deserve to meet its end?
I say it was fair.
Bots are bad news and they're multiplying like crazy. Someone has to put an end to it, and who better than Facebook and Instagram?
That way we can focus on real and reliable services that grow your account organically. They're the ones that deserve the spotlight.
Top 10 Instagram Bots
If you need help deciding on a legit and safe Instagram growth tool, let us help you.
We've tried and tested many over the years, in search for the best ones on the Internet.
And here, we have our favorite ones!