Instagram has become an integral part of many businesses' marketing strategies. And it's only logical – with billion active users, Instagram is a vast sea of opportunities.
And let me tell you something. If you're not using it to the maximum, your competitors for sure are. So why should you miss out?
Instagram growth services are a great way to use Instagram's potential and boost your business or personal account. Today's review will be all about one service called Instamber.
Is it any good? Should you give it a whirl?
Or should you steer clear of it?
You'll find out all in my Instamber review, so stay tuned!
What Is Instamber?
If you're to believe their website, Instamber is "the unparalleled solution to amplify your growth on social media."
Yeah, they sure promise a lot.
So what is it really?
Instamber is a company that offers an assortment of tools that can, supposedly, help you grow your account.
What does their Instagram program entail?
Instagram bot
Automated DMs
Post manager
Comment manager
Search tool
Buy Instagram views and likes
Okay, so how does it work? Let's find out.
Other Popular Instagram Growth Tools
How does Instamber work?
Instamber is entirely web-based, so there's no need to download and install any kind of software.
To use it, you first have to register on their website using an email and a password. Then you have to choose one of the six plans.
I've tried the Instagram bot, and I can tell you first hand how it works, or worked, since it doesn't work anymore.
So, how did the Instagram bot work?
Like any other bot – no surprises there.
Instamber's bot worked by targeting an audience based on hashtags and geotags. When you chose the Instagram bot, you'd have to give them specific hashtags and location tags so the bot can know who to follow and like.
Now, their claim is that they only attract real accounts to your profile.
The problem is – they can't know that for sure. So for them to claim it, is a bold move.
Popular reviews you should also read:
From my experience, Instamber bot did bring some real followers to my account, but there were loads of fake ones as well. That's all okay until Instagram notices it and flags your account, or even worse, bans it altogether.
Thankfully, I got out before Instagram could detect bot activity on my profile, but you may not be as lucky.
Let's move on to see how each plan works.
Instamber Features
Instagram Bot
Since I've already described how the bot works, there's nothing special to mention here. By using hashtags and geotags, Instamber bot follows people from your niche, and you can hope they'll follow you back.
You can also hope they're real people and not bots.
And one more thing – this was fully automated growth, and not at all organic. However, Instamber never promised organic growth, so I guess we can't blame them for that one.
Also, the bot performed 24/7, which sounds like a good thing, but here's why it's not.
Since there are no ways to set hours during which it follows and likes, it will do it non-stop. This is really unnatural and it tells Instagram you have a bot doing business for you.
For whatever reason, it doesn't work anymore, so you can't try it even if you wanted to, although there's still a price for it on the website. Kind of shady, don't you think?
Auto DMs
For automated messages, Instamber also uses filters like hashtags to select which profiles to contact.
They will send DMs to prospective followers, and you can customize messages by creating templates. In the template, you can include links and posts for better engagement.
According to Trustpilot reviews, this feature works surprisingly well. You just have to be careful about the content of the messages you send.
Post Manager
The post manager is, by all means, Instamber's best feature – at least based on users' critiques. It has no way of making your profile suspicious since you get to control the timing at which Instamber will post.
You can schedule your posts directly from your PC, and you can also plan and arrange specific content to post on Instagram, including photos, videos, and IGTVs. The best thing is there's an unlimited number of posts you can have in your draft folder.
Comment Manager
Instamber allows you to track comments on all your posts in a single stream. You can reply to comments, delete irrelevant or hateful ones, and you can tag comments as important so you don't miss replying to them.
This one is all on you. Instamber doesn't leave auto comments, it just puts all your comments in one place so you can manage them better.
Search Tool
The search tool is an efficient way to find the most influential pages in your niche. By doing so, you can reach out to potential customers and maybe turn them into followers who are interested in your content.
Buy Likes and Views
Among everything else, you also have the option to purchase likes and views. This one is very straightforward – you buy a package, you get likes and views.
Many reviews mention they appreciated you can divide them into multiple posts, or you can save them for future posts.
Instamber Pricing
So, how much does each of the packages cost? Time to take a closer look at the pricing.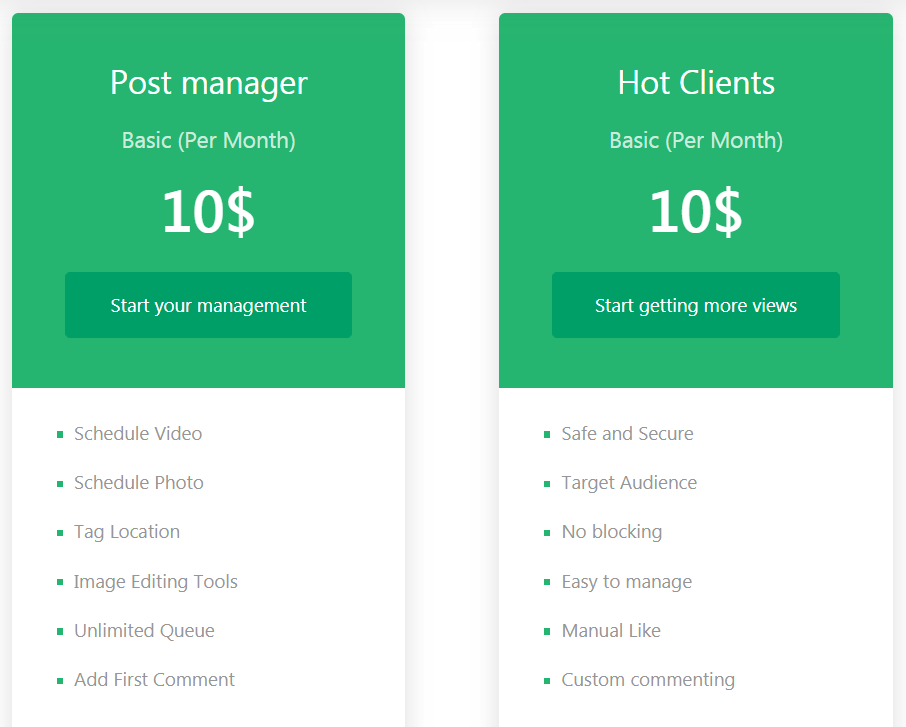 Admittedly, Instamber is not overpriced. Yes, all of these are for one account only, but if even if you were to combine some of the packages, I think they'd still be quite affordable.
And what's the deal with likes and views?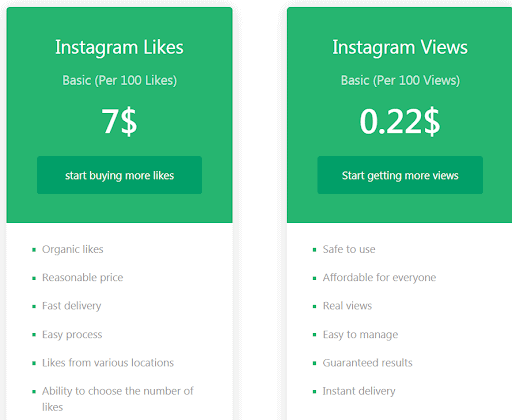 Although they make you believe that likes and views are in the same package, they're sold separately. But, believe me, that's not the biggest issue.
Is Instamber Legit?
I couldn't overlook the huge amount of negative reviews of scammed clients that say Instamber took their money and offered nothing in return. When they contacted customer service, their issues were either disregarded, or they were told to request a refund from PayPal (even if they didn't use PayPal).
Even though I didn't experience similar issues, the sheer amount of dishonesty regarding payments and refunds really made me question the entire company.
Therefore, I'm having trouble saying you can trust them 100%.
Is Instamber Safe?
Not exactly.
While some of their tools work fine, you can't trust them with your money, and that's a good enough reason to question the safety.
PROS and CONS
| PROS | CONS |
| --- | --- |
| It's inexpensive | A few tools don't work anymore |
| | Lousy customer support |
| | Too many tricked customers |
| | Refund issues |
| | Mostly negative reviews on Trustpilot.com |
| | May get you banned |
Instamber Review: Final Verdict
What happened to my account when I tried Instamber?
Not too much, to be honest.
Which, in this case, is probably a good thing, considering how many users complained about payment and refund issues.
The moral of the story is you can never be too careful with these companies, and you can never know who to trust. But one-star reviews don't lie, do they?
Top 10 Instagram Bots
Save yourself the trouble and invest in a growth service that actually works. If you need help deciding which to use, check out the table below!
We're tried and tested many in search for the best and we've ranked our favorite ones down below!