To get ahead with your Instagram profile, you need a superior engagement strategy. Instagram tools claim to build your profile and get you the desired likes and followers.
However – as it's usually the case with everything – some tools are more legitimate and efficient than others.
My mission is to investigate Instagram marketing tools and to determine which ones are worth your attention.
Poprey reviews I've found are varied – some users say that it's basically snake oil, while some claim it has helped them with their Instagram growth.
Let's answer the question once and for in this Poprey review: Is it a deceptive marketing tool, or a useful one?
One truly legit service that lets you buy followers is Upleap. It's the most effective solution I have found so far. Take a look at my detailed Upleap review here.
What is Poprey?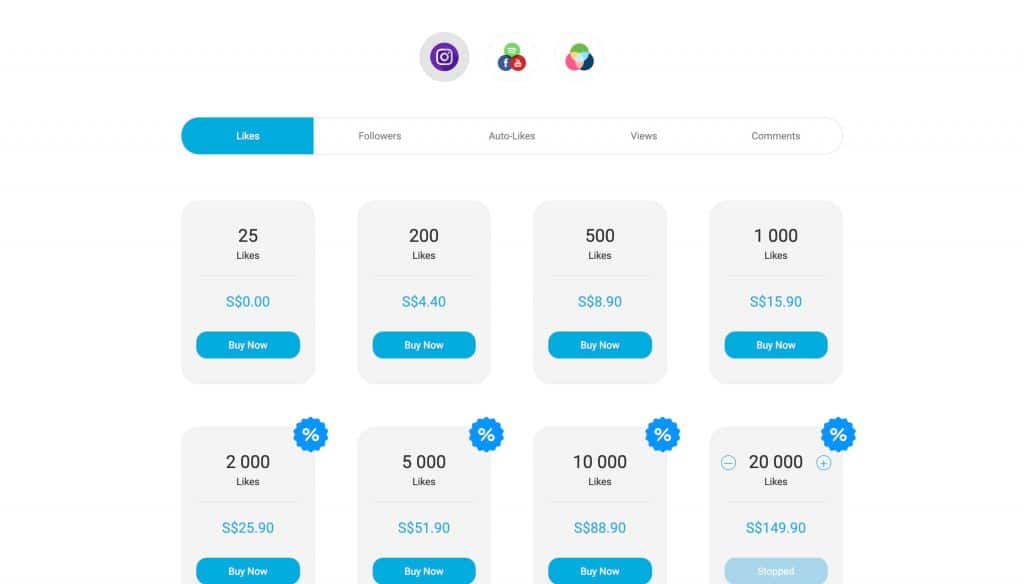 Poprey is one of the tools that promise to get their clients real and targeted Instagram followers and likes. You can buy large amounts of likes, followers, views, etc., and that's supposed to win you Instagram popularity.
Maybe, when it comes to numbers. But in reality, buying likes and followers will not get you far.
It's easy to deploy such a strategy to gain followers. But getting real and organic followers is much more complex.
That's where Poprey fails. More about this later, when we discuss its features and how it actually performed.
I want to mention here that Poprey can also be used for other social media platforms (though I haven't tried out those features, as my focus is on Instagram).
But if you're interested, here's what else Poprey offers:
Twitter followers
Facebook page likes
YouTube subscribers, likes, and views
TikTok views and followers
Spotify playlist followers
There's also an odd feature on their website that's apparently free, and it's called "find optimal Instagram hashtags." I figured that it should generate hashtags that are related to your niche, and decided to give it a try. However, whenever I entered a word, I got a message "error search keywords."
So, Poprey may aspire to be a hashtag generator, too, but this function does not work.
After some thorough research, I found that their company operates from France, though they sell their services internationally. However, even though I've (probably) discovered who's behind the tool, it was hard to reach their management and customer support.
Other Popular Instagram Growth Tools
How Does Poprey Work?
Poprey offers you the exact amount of followers, likes, or views you can buy. They claim that all that traffic comes from real people, aka genuine Instagram accounts. Consequently, it would make your content easily discoverable, and people would keep coming to your profile.
Too good to be true? Unfortunately, yes.
As Poprey brings you engagement inorganically (although they claim it's not the case), its results are very short-lived.
Popular reviews you should also read:
How to Use Poprey?
Using Poprey is quick and easy because they do not really aspire to learn more about your goals (for example, by setting filters and targeting your audience).
So, all you need to do to use Poprey is:
Choose a package of likes, followers, comments, or views.
Enter your Instagram username and password and connect your account to Poprey.
Go to checkout and make a payment.
Wait for the results.
The results should show approximately 24 hours after the purchase, and they offer what they call "the gradual delivery" because Instagram may block your account if there's too much activity at once.
Features of Poprey
I've tried all the Poprey Instagram features so that I can report back to you the results.
Here they are:
Follow
With Poprey, you can get from 10 to 10,000 followers. Supposedly, these should be real accounts and people. But c'mon, 10,000 real and organic followers at once?
I knew it couldn't be true, but I still decided to try out the priciest package for 10k followers.
What were the results?
Poor. Of course, I didn't get 10,000 followers at once, or Instagram would ban my account. They were delivered in portions, and at some time, I've lost count of how many followers I got due to Poprey.
The problem is that those accounts that followed me are average, meaning I spotted a lot of fake accounts.
But what bothered me even more is that they keep getting deleted after 48 hours or so.
No Target Audience
Instagram tools mostly ask you to enter some filters (such as gender, hashtags, location, accounts, and so on) from your niche.
The inability of Poprey to find your target audience and engage you with them is a major red flag.
It just further confirms that followers are not real and organic.
Even if they were real, they wouldn't be your target audience – meaning, they wouldn't necessarily be interested in your content and posts.
Like
Poprey likes can be purchased in bundles from 25 likes to 20,000 likes.
The problem was the same as with followers: they were delivered late and from fake-looking accounts. They also disappear after some time.
Auto-likes
The difference between Poprey likes & auto-likes is that the latter can be purchased per every post, while the former are randomly distributed.
Other than that, the same goes for auto-likes: unreliable and inconsistent.
Views
Poprey offers from 200 to 50,000 views.
Buying Instagram views is not amongst the most favored Instagram growth features because it's not really useful.
Yes, having a lot of views shows that your content is popular, but not many people check this out. Story and video views are more useful to you so that you know what to post more often.
But considering these are bought, they don't have any particular purpose.
Comments
You can get from 25 to 5,000 comments with Poprey.
They claim the comments are "real-looking," but in reality, it looks like bots left them. First of all, they come from fake accounts. Secondly, they look too similar and generic.
Poprey Pricing
Take a look at the pricing of Poprey for different features and tariff packages:
You can try out their like features with the free trial that will bring you 25 likes. The biggest amount (20,000 likes) costs $109.90, which would be fine if they came from real people.
The same goes for followers – $66.90 per 10,000 followers would have been amazing had they been real and organic. See for yourself:
Packages for other Poprey features, such as views, auto-likes, and comments, are within the same price range, more or less. There's no need to present them separately.
I just want to single out an outrageously expensive one. Two hundred thousand auto-likes are $669.90! Paying that much for likes that will disappear after some time should be illegal.
Is Poprey Legit?
Poprey is a legit service, as in, their company does sell what they claim. But the problem is that their features are not good.
Had there been an award for the vaguest FAQ section on a website, Poprey would win the price. All answers consist of a single uninformative sentence.
It feels like they are offering diplomatic answers to try and hide the truth about their services.
For example, for the question about what people should do when they lose followers – which is a legit question, and the biggest problem about their tool – they say something hazy like "read the description to see if you're in the warranty period."
What does that even mean? Many typos and misused words don't help.
While at it, some messages that sound incredibly fake keep popping every 30 seconds or so on their website – for instance, "Someone in the United States purchased 200 likes," "Someone in Malesia purchased 20,000 likes," etc., only the location and the numbers change.
Having to use false descriptions and notifications already says enough about the service.
Is Poprey Safe?
It doesn't seem that Poprey will share your Instagram password and account details with any 3rd party, but it's perfectly understandable if you don't feel safe entering your password.
Having said that, some users on TrustPilot claim that they had some suspicious sign-in attempts after purchasing Poprey, so have that in mind.
Poprey PROS and CONS
| PROS | CONS |
| --- | --- |
| Straightforward to use | Doesn't bring you organic and real followers |
| | Doesn't offer to find you target audience |
| | Followers and likes are deleted after some time |
| | Customer support refuses to refund payment |
| | Bot activity |
| | No live chat |
| | Requires you to enter your Instagram password |
Poprey Reviews: Final Verdict
So, what's the overall impression of the Poprey Instagram service?
Weak.
It will flood your Instagram account with fake followers and likes that will disappear at some point. Most of them will not be people but merely bots.
Plus, an increased amount of ingenuine followers is frowned upon by Instagram Terms and Conditions, which means it could result in a temporary ban.
Just like with any other platform, the best way to build your Instagram and attract followers and likes is the organic way. Thus, you can check out the list of alternatives that can help you with this non-evasive and efficient strategy.
Top 10 Instagram Growth Tools
With Poprey, you can certainly get some average quality followers. But if you're looking to grow your Instagram account in the long run, do check out the tools we have listed below.
Rather than buying likes and followers, growing your account organically or using an automation tool will actually make the most bang for your buck!