The search for growth services that provide what they advertise is sometimes more difficult than we might think.
You can surely relate that you've found yourself in a situation where you're using a certain growth tool; you just sit back and think, "Well, this isn't what I paid for."
It's time to test that.

On today's menu, we have SocialFollow.
This tool has probably popped up once or twice on your search quest, especially recently, due to changes in features and some updates in their pricing plans.
Seems like SocialFollows has made some changes to its services, and as always, it's my mission to review them so that you don't have to.
To learn more about the updates surrounding this popular growth tool and whether it can help your Instagram account skyrocket, sit tight and scroll down!
SocialFollow: Recap
Before the review officially kicks off – here's a short recap of SocialFollow's current online presence:
| PROS | CONS |
| --- | --- |
| Offers a 10-day free trial. | Too pricey for beginners. |
| Offers new features. | Poor review on Trustpilot. |
| Easy to navigate. | |
Now, let's get into the juicy part of the review.
New SocialFollow
It's not uncommon for growth services to spice up their online presence – especially if they've been on the market for a long time.
They do it for several reasons:
To create a new, more user-friendly, aesthetic interface
To showcase their new features
To fix common bugs
Whatever the reason, SocialFollow made that step:
I believe the announcement is clear – SocialFollow's aim is to switch from the old-school method of simply purchasing followers to growing your account organically.
It's definitely a step forward.
If you scroll through SocialFollow's homepage, you'll notice that everything is neatly organized; it's not piled up with glowing reviews.
Most importantly, anything you need is basically one click away.
Job well done.
Updated Features
It's only fair that I devote a minute of your time to the latest features that make SocialFollow a fresh, new growth tool. If you click on "What's new?" in the top right corner of the homepage, you'll be able to read more about what this spiced-up version offers.
In short, SocialFollow's customers are presented with:
Instagram automation – gaining new followers automatically.
A brand new dashboard – offering customized features.
What's the point of updating growth services, in this case, switching from buying followers to organically growing your account?
It's quite simple; you don't have to be a pro to take it all on. If you look back, you'll probably be able to list down at least five of the worst growth tools that you ever came across.
Why were they on your worst list?
Because they were working against Instagram's algorithm. Instagram has made it its mission to update the anti-spam algorithm and make lives for Instagram users and brands who want to grow their accounts almost impossible.
That's why, today, more and more growth tools are doing what SocialFollow is – creating a steady, organic inflow of followers that doesn't make the Instagram alarms go off.
New Pricing Plan
Of course, a new image couldn't go without a new pricing plan.
Let's see what SocialFollow has in store for us: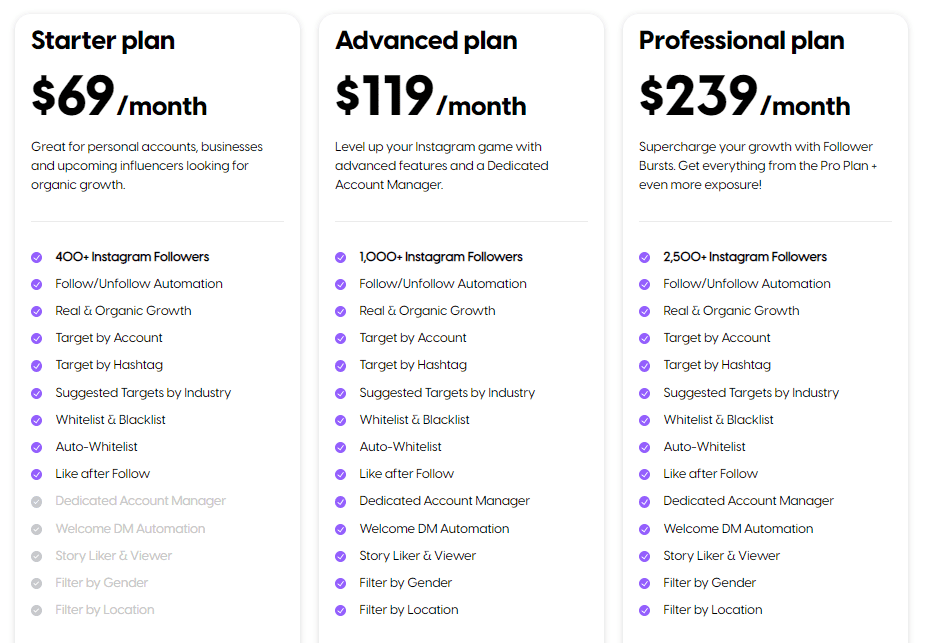 For someone who's just starting out, it's definitely a lot. Although the Starter Plan looks tempting, the real deal is locked with the other two.
Luckily, There Is a Free Trial
To the Instagram user's luck, there's a free trial for those who are eager to try out this growth tool but either don't have the money for it or are not 100% certain that this is THE one.
You can kick off the 10-day free trial by just signing up with your email that's connected to your Instagram. You'll be able to see how your Instagram grows and have access to 24/7 support.
Here's how to start:
Is SocialFollow Safe?
Definitely.
Although you've seen some angry customers, it's a safe growth tool. SocialFollow won't ask you to put in any sensitive information that might additionally harm your budget or ruin your plans.
That's why they have their free trial – that's one thing you don't have to worry about.
The Last Say on SocialFollow
That would be all for now.
I've examined SocialFollow in detail – all in hopes of getting to the bottom of the $1 million question: Can it make your Insta skyrocket?
For now, we know that SocialFollow has had a major transition from simply buying followers to organically growing your account. And with that transition came the change in payment plans. It's a bit pricey, that's for sure, but you can always try out their 10-day free trial.
Also, there's the part we can't forget – the reviews. Well, not everything has a 5/5 rating.
Ultimately, I'd say the last say is yours: Are you ready to try it out?
Other Popular Instagram Growth Tools