If you are an aspiring social media influencer, then you have probably heard of Social Boost. This company provides a service that helps you to grow more followers and engagement on Instagram.
They provide an answer to the age-old question, "How can I get more followers?" Are you going to use bots? Buy likes and followers? These are just some ‌dilemmas that social media influencers, brands and people who are managing a social media account have to ask themselves.
If you're one of those people who is looking for real, organic and targeted followers, then Social Boost is the solution for you. With their help, you can increase your Instagram following quickly and easily. But how does it work? Let's take a closer look.
In this article, we will take an in-depth look at Social Boost and see how it can benefit you.
What is Social Boost?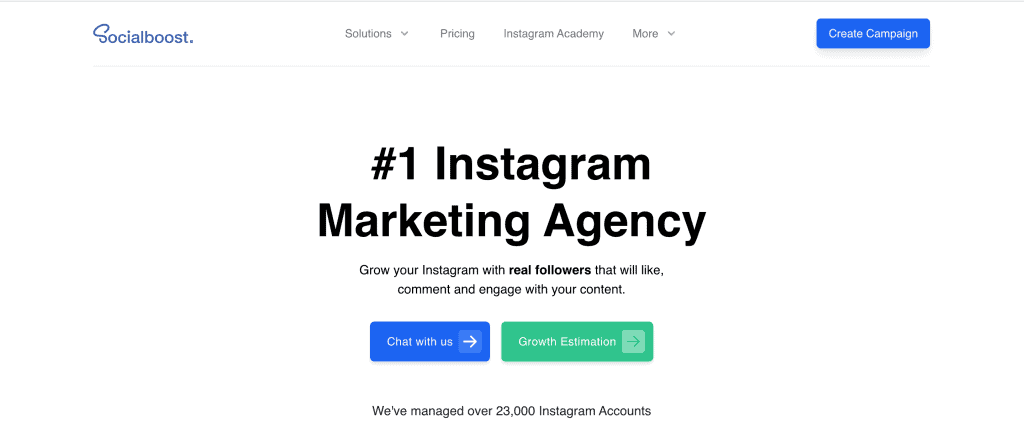 Social Boost is a social media marketing company that enables you to get more followers and likes on your Instagram account. It works by connecting you with real people who are interested in your content. Their aim was to provide a service that would help people to grow their Instagram accounts. And that is exactly what they do!
The company has a team of experts who will help you to grow your account organically. Social Boost does not use bots to grow your account. Instead, they use a human-powered approach that works in 2022 and complies with Instagram's terms of use.
Other Popular Instagram Growth Services
How Does Social Boost Work?
According to the company, your growth will be handled by an expert who will help you to target the right audience for your brand. They call them "Growth Experts", which is probably another term for Social Media Manager. These account managers focus on your specific target audience and help you to grow your account by engaging with the right people.
1. Finding accounts with similar audiences to yours
2. Engaging with their most engaged followers
3. Helping you to optimize your profile to convert these people into followers
4. Coaching you on your content to ensure your followers remain engaged.
By employing extremely targeted engagement, they can achieve the best outcomes. They will ask you to name several accounts that are in your niche and also some hashtags that you would like to target. It can be your competitor, an influencer in your niche or just a general hashtag.
After that, they will start targeting people who are interested in those accounts or hashtags.
During the onboarding phase, your Growth Expert will connect your account to a dedicated iPhone, in which they will run the engagement process. Once your account is connected, they will start to engage with potential followers who may be interested in your content.
This is done by liking their photos and commenting on their posts. The comment will usually be something like "Great photo! Check out my page for more travel photos" with a link to your page.
The aim of this engagement is to get potential followers to visit your profile and follow you.
The main method is simple, yet effective. Like, comment, follow and unfollow. These simple but powerful actions will help you to quickly increase your Instagram following.
You will never worry about having an organic and engaged Instagram following again.
Popular reviews you should also read:
PROS and CONS
Here are some benefits of using Social Boost to grow your Instagram following:
| PROS | CONS |
| --- | --- |
| Real, targeted and engaged followers | More expensive than using a bot |
| Grow your account quickly and easily | Not as fast as Advertising (although it's better value) |
| Safe service | Campaign takes a few days to warm up |
| You can cancel your subscription at any time | |
| Expert advice from your own dedicated Campaign manager | |
| 24/7 Client support by Phone, Email & Livechat | |
Social Boost Key Features
The company offers a no-nonsense approach to help you grow your account using these features:
Real Followers: Social Boost attracts followers who are interested in your content. These are real people who will like and comment on your posts.
Advanced Optimization: The team will help you to optimize your account for better growth. This includes using the right hashtags, posting at the best times and more.
Analytics & Reports: Monthly reports show you exactly how your account is growing. You can see new followers, likes, comments and more.
Handmade Growth: Their team of marketing experts helps you to grow your account organically–literally by hand.
Personal Account Manager: You will be assigned a personal account manager who will help you to grow your account. They are available 24/7 via email, chat or phone.
24/7 Live Support: The team is available 24/7 to help you with any issues you may have.
Popular reviews you should also read:
Social Boost Case Study
@prolycht is an LED Spotlight that is used in video production. The company originally designed the product for a specific event, but quickly found that there was a much larger market for it.
After having started with just 6000+ followers, @prolycht now has 16.1K. According to Social Boost, their growth rate comes in at a whopping 125%, meaning that they have more than doubled their follower count.
Social Boost's approach was not simply to give them a one-time growth spurt, but rather to keep the growth consistent by providing content that was interesting and engaging to their target market.
They did this by understanding the types of content that would resonate with that target market. The LED Spotlight niche is not an easy one, but Social Boost was able to find a way to make it work.
This measured approach made Prolycht outperform other accounts in their niche and they are still going strong.
It's not enough to just have a presence on social media. You need to be active and engaging if you want to grow your following. This is where Social Boost comes in. They are a company that specializes in helping brands grow their social media following. Social Boost says that they focus on quality over quantity, saying "1 real, engaged follower is worth a thousand fakes".
Organic vs Non-Organic Instagram Growth: What's the Difference?
Since the early days of Instagram, people have been looking for ways to increase their follower count. Some have turned to buying fake followers, while others have used more organic methods like following and hashtagging.
Let's start with the non-organic growth first, as it's the easier of the two to explain. Non-organic growth is any method of increasing your followers that doesn't involve real engagement with other users. This can include buying fake followers and paying for shoutouts from bigger accounts.
There are a few reasons why people might choose to grow their account using non-organic methods. The first is that it's fast. You can go from 0 to 10,000 followers in a matter of days if you're willing to spend the money. The second reason is that it's easy. There's no need to put in any effort. You can just sit back and watch the fake followers roll in.
However, there are also a few downsides to non-organic growth. The first is that it's not sustainable. At some point, you will need to stop buying followers and switch to organic growth if you want your account to continue growing. The second downside is that it's not real engagement. These fake followers are not going to interact with your content, which means that your reach will be limited.
Organic growth, on the other hand, is any method of increasing your followers that involves real engagement with other users. This can include following and interacting with other users, using relevant hashtags, and posting high-quality content.
Organic growth is a slower process than non-organic growth, but it's more sustainable in the long run. Once you've built up a base of real followers, they will continue to interact with your content and help you to grow your account.
With Social Boost's team of Growth Experts, they will help you grow your Instagram following the organic way through real engagement with other users, commenting, liking and following users in your target market or niche.
Pricing
Social Boost offers three different plans, Basic, Premium and Turbocharged. The Basic plan costs $59.00 per month and offers competitor targeting, niche targeting and follow/unfollow.
The Premium plan costs $99.00 per month and offers all of the features of the Basic plan, plus location targeting, gender targeting and a dedicated Campaign Manager. This means you only communicate with one person, who will be proactively working with you to make sure you get the best results. They will also give you a more personalized service. This plan is the most popular and probably the best value for money.
The Turbocharged plan costs $249.00 per month. It offers all the features of the Premium plan, plus faster growth, due to a more stringent process of vetting accounts before they are targeted. You also get a Senior Campaign Manager with more experience and a long track record of awesome results.
If you are looking for an Instagram growth service that is going to help you grow your account the organic way, Social Boost is the answer. With their team of Growth Experts, they will help you strategize and get the results you are looking for.
Final Verdict
Social Boost is a client-focused Instagram growth service that offers a full suite of features to help you grow your account in the organic way. They are a reputable company with a team of experts who are dedicated to helping you succeed. They might not be as fast as a full-scale paid advertising campaign, but if you don't have $1,000s to spend every month, then they might be a great option for growing your Instagram with real followers.
Popular reviews you should also read:
Top 10 Instagram Growth Tools
If you're new to growing your Instagram account, you might be overwhelmed by the sheer number of services that are available.
Trust me – I was too!
To combat this, I decided to try out as many of such services as possible in search for the best ones.
Check out the table below for the cream of the crop!