Instagram automation gets a bad rep these days. It's no secret that the platform isn't supportive of automated actions. The reason is that it wants only 'organic' activities from its users.
But, let's face it; everyone uses some kind of automation. It's still doable, but you have to be very smart about the service you choose.
I see that Robolike caught your attention. There are many rumors about this growth tool, and they're not encouraging.
I don't like hearsay, so I did some research to see what this service is all about.
Is it worth your time and money? Will it put your profile at risk?
Find out in my Robolike review. Keep scrolling!
What is Robolike?
Robolike is an Instagram bot, straight and simple. The company doesn't hide this, so I'll give them a point for honesty. Unfortunately, honesty doesn't earn them Instagram's approval.
What does it do?
The tool automatically likes your target audience's posts. That's it.
Of course, it includes some targeting options and content filters, but not much more. It is the quintessential, stripped-down auto-liker bot.
I just mentioned that Instagram disapproves of bots. The platform's algorithm is quick to detect and action block users who employ such tools.
Ironically, Robolike claims that it's "the longest-standing auto-liker on the block." It's on the block, alright – a block by Instagram.
No matter how much the company boasts about being immune to IG's algorithm, it's not. Rumors of Robolike not working are true. It's been around for six years, and it seems like it can't stay afloat any longer.
Other Popular Instagram Growth Tools
How Does Robolike Work?
Well, it looks like it doesn't work anymore. Their website is up, and they accept registrations, but the software won't start. I'll still explain how it used to work. Who knows, they might get it up again somehow.
Robolike is an auto-liker, a very simple one for that matter. It likes the posts of accounts that you targeted using hashtags. You can choose how many likes per hour it does. The tool also includes a filter to avoid inappropriate content. That's all there is to it, really.
It worked relatively fine until last year when Instagram did a crackdown on bots. After that, Robolike was never the same. The service somehow stayed in operation, but it broke down frequently and was laggy.
Even if it starts functioning again, I wouldn't recommend using it. A tool like this will probably get you action blocked in a matter of hours.
Popular reviews you should also read:
How to Use Robolike?
The process seems very simple, but it might get complicated for some. I'll explain.
You can sign up for free on Robolike's website. Enter your IG username, password, and country.
Now, some people are unable to log in this way. They'll get a message like "Login failed" or "Unable to find the country." When that happens, people have to follow instructions provided in a popup on the page. The process described isn't too complex, but it's still a hindrance.
Once you register, connect your Instagram account, and you'll be all set.
Robolike Features
In this section, I'll break down Robolike into its most essential features. Since the service doesn't currently work, you can switch the following paragraphs to past tense.
Auto Liking
I've already pointed this one out several times. Robolike sends automatic likes to your target audience. It can do up to 90 likes per hour, and you can adjust the number of likes per hour.
The issue with this feature is that Instagram can easily detect it and punish the person using it (you). It is almost a guaranteed way to earn an action block or even a ban.
Targeting
The tool only offers hashtag targeting. Insert the tags relevant to your niche, and Robolikes will like the posts that have them.
Such targeting isn't narrow enough to dial in your ideal audience. Chances are that your likes will 'spray' in all directions, not just the one that you need.
View the Likes You Made
Once you log in, the app will show you the latest images that your profile liked. Such transparency is important because you don't want the company to abuse your profile.
The thing that worries me is whether Robolikes shows you the whole story. Maybe they display some of the likes you made but hide the rest.
I know, I'm accusing them without evidence. But, considering the bad things that similar services do, it wouldn't surprise me.
Bulk Account Manager
You can connect several Instagram accounts to Robolikes. However, there's no way to do this directly on their website. In case you want this option, you'll have to email the company and request it.
Why wouldn't they just include it next to the single account registration?
Beats me.
Robolike Pricing
Robolikes displays only one price on their "Pricing" page. It is a monthly subscription for a single account, and here's what it looks like: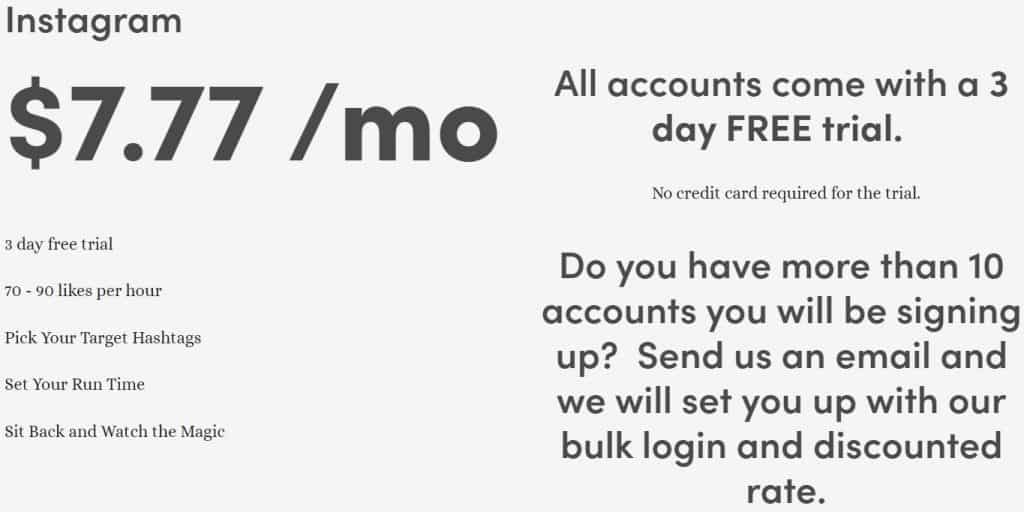 Another thing that causes an eyebrow raise is the mysterious bulk account feature. They say that you can email them if you want it. I assume you can find out the pricing then. I don't understand why they didn't just show the cost on the site.
The payments can be made via PayPal, Stripe, or with your credit card.
Is Robolike Legit?
At this point, I'm reluctant to say that it is legit.
The app doesn't function, but their website doesn't notify you about this. You can register like everything is normal.
Trustpilot.com only has one 2-star Robolike review. I've searched elsewhere, but there are no customer reviews to be found.
This makes me wonder just how many users this service has?
 If they had a lot, the people would leave their opinions all over the place.
Is Robolike Safe?
I don't think it's safe because of the fact that Instagram flagged it several times. Also, its blatant use of bots will probably get you banned or at least blocked.
As for the financial side, everything seems to be secure. The website uses the https protocol, which keeps your data discrete, and the payment gateways are verified.
PROS and CONS
| PROS | CONS |
| --- | --- |
| They offer a 3-day free trial | Doesn't seem to work anymore |
| Easy to use | It may get you action blocked or banned |
| | Too cheap for a legitimate service |
| | No customer reviews |
| | It has very few options |
| | Ineffective way to grow an account |
Robolike Review: Final Verdict
Can Robolike nudge your account in the right direction?
No, because it's not in operation. Even if it were, I wouldn't suggest using it. The service could compromise your account.
Besides, just giving likes is an ineffective growth strategy. If you want to boost your account, you'll have to take a more well-rounded approach.
There are great companies that could help you grow, and Robolike, unfortunately, isn't one of them. In case you're interested in some legit organic growth tools, check out the table below.
Top 10 Instagram Bots
Still looking for a reliable and legit tool to grow your Instagram account? Check out the table below. We've tested many over the years and ranked them in the table for your use!