If you're looking to succeed nowadays, there's a small chance you will do it without being on social media, especially Instagram.
But how to achieve the desired thriving Instagram presence, with so many brands and people on there?
You need the best Instagram strategy so that more people can hear your voice and see your content. Stuck on what to do? We've all been there.
There are many tools that can help you grow your Instagram without much work from your side.
As always, I'm determined to find the ones that are the best for your needs. Today, we assess Ingramer.
I've come across multiple Ingramer reviews, but they do not offer enough information. The tool claims to help you with Instagram engagement significantly – but does it keep the promise?
I've broken down all the bits and details about it. Let's dive in!
What is Ingramer?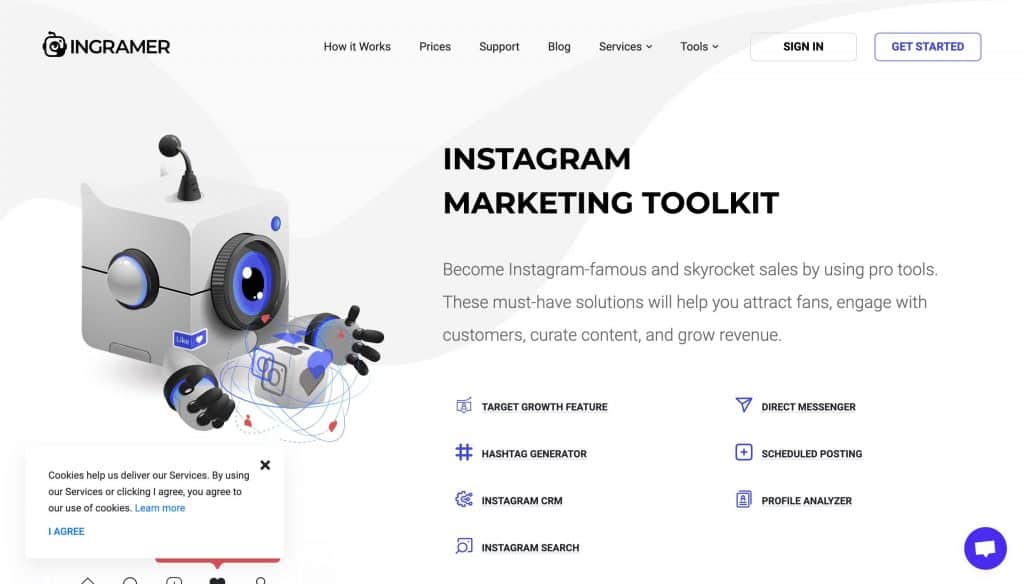 By definition, Ingramer is an Instagram bot.
Its main principle of work is performing automated actions, such as liking, following, and posting, instead of you. All of this serves to boost your profile.
Of course, you want to maximize your Instagram engagement to bring up your follower count. But, ultimately, the greatest measure of success is an audience that is interested in your content.
Quality over the quantity, as people would say.
So, can Instagram bots help you achieve what you're striving for? Some of them can, if they aren't too aggressive, as Instagram disapproves of bot practices. This means it can block or ban your actions if it detects bot activity.
With Ingramer claiming to be "x2 more effective Instagram Bot," in their own words, it sounds a bit aggressive. So, what happened when I tried it out?
Other popular Instagram Growth Tools
How Does Ingramer Work?
Instagramer supposedly makes 112,500 actions per month instead of you. Sounds like a lot?
Probably because it is. Too much, if you ask me.
The thing is, that much interaction would be regarded by Instagram as spam activity and result in a temporary ban on your Instagram account. And that's exactly what happened when I used Ingramer.
But can it, nonetheless, be useful? Let's tackle its functionalities and final results I got with it.
How to Use Ingramer?
If you want to use Ingramer, here's what you need to do:
Create your Ingramer account with email and a strong password and purchase the plan that you wish.
You'll be taken to the Ingramer dashboard to narrow what they call the "search cope" of your goals. You can do so by tweaking hashtags, account usernames, and location.
Go to the "functions" tab. From there, you can set all the activities you want Ingramer to perform for you.
Optionally, you can use Ingramer to generate hashtags and use them in your posts.
After you turn on the bot, it allows you to monitor your stats and progress under the "Statistics" tab.
Features of Ingramer
Moving on to the main Igramer features, here's all you can get:
Automated Direct Messaging
Bots can send your followers DM's (for example, welcome messages to users once they follow you). However, this one is a bit difficult to set up.
They do allow you to set up trigger phrases and words, even multi-language recognition, but they cannot engage in a meaningful conversation instead of you.
Oftentimes, auto-replies it generated seemed inappropriate and out of context even though I tried my best to set it up correctly.
Post Scheduler
Now, their post planner is convenient. It allows you to schedule your images, videos, and stories for the entire month, which saves up your time.
Unless you overdo it and post too many things each day, you shouldn't have problems because of this feature, and Instagram will not block it.
Font Generator
Ingramer allows you to customize the font for your bio, post, and comments by choosing from over 80 font styles.
It's a unique feature when it comes to the visual aspect, but doesn't really boost your profile, so I didn't find it useful.
Story Viewer
This feature allows you to watch someone's Instagram story anonymously. Not really my area of interest, so I'm not going to discuss it further.
Automated Activity
Ingramer can handle automatic follow, unfollow, and likes, with approximately 1,250 actions per day. As I mentioned, this violates Instagram Terms and Conditions.
Flock Social Features
As I continued to scroll down their main website, I was eagerly searching for a list of their main features as I strongly believed that their price-to-value ratio wouldn't disappoint (more on their pricing later).
Luckily, Social Flock continues to bring in the good news, especially when it comes to:
Targeting Options
Most social media growth platforms don't have a lot to offer in this department, as they mainly function by providing you with Instagram bot services.
However, when you have a genuine business model that strives to elevate your social media rankings, their services usually consist of the following:
Hashtag targeting
Influencer and Competitor targeting
Location targeting
This is only a glimpse of their primary mechanisms – the entire list marches forward extensively.
Personal Account Manager
As I already mentioned, Flock Social offers a wide range of professional Instagram account managers that will observe and supervise your social media growth from day one.
Ensuring the safety of your precious Instagram account, as well as maintaining a meaningful Instagram growth procedure – your personal account manager will stay by your side at all times.
Priority Support and Consulting
It's a good feeling knowing that you have someone to take care of your problem when and if you have one – a personal account manager will reach out to you shortly after you appoint a meeting through messages or, eventually, a voice call.
I didn't joke when I said that they stay by your side – every step of the way!
Flock Social Pricing
In most cases, social media growth platforms deemed unfaithful will try to hide their business plans and pricing packages, revealing them only during the last few steps before the transaction is completed.
With Flock Social, no faulty agreements and secrets are lurking behind – two plans are presented, and depending on your wishes, you may choose between the beginners and advanced packages.

Personal Instagram profiles will usually lean toward the beginner's package, as they don't necessarily wish to engage with countless people but just slightly boost their social media presence every month.
However, the advanced packages should be used by larger profiles eager to contend with other Instagram profiles with a large audience behind them, if you ask me. But everybody's free to use a plan they see fit for their needs since that's what's most important at the end of the day.
Is Flock Social Legit?
Trustpilot is a reputable source of user feedback. Currently, you can find a total of 116 reviews on Flock Social. Although we are primarily focusing on the Flock Social reviews – you can check other reviews for similar online companies that delve into social media growth.
Both people from Trustpilot and my personal experience will lead you toward the same conclusion – Flock Social is a legit social media growth platform.
PROS and CONS
| PROS | CONS |
| --- | --- |
| True conversations | The monthly plans are slightly pricey. |
| Real engagements | |
| Targeted followers | |
| Instant delivery | |
| Excellent customer support | |
Flock Social Review – To Sum Things Up
What's there else to say?
Average social media growth platforms can't compete with the overall services and trustworthiness that surround Flock Social. Still, I was eager to give you my take on Flock Social review, just to be safe.
At the end of the day, it's better to hear from one more person what they thought of a product or a service since that's what bases the general sentiment towards it on the market.
As I was digging around for answers regarding Flock Social, I found that it's a successful company that takes care of your beloved Instagram profiles with tenderness.
Stay tuned for more reviews on social media growth platforms!
Top Instagram Growth Services
Before you depart, I highly recommend you take a quick look at the table below, which contains the most reliable organic growth companies!
Hashtag Generator
They offer to generate trending hashtags in your niche. Use this one cautiously because some hashtags it finds can be considered spammy.
Ingramer Pricing
Here's the breakdown of Ingramer pricing with all features included:
If you want to buy all of the Ingramer features (automated activity, scheduled posting, DMs, and hashtags), it will cost you $82 per two weeks, $128 monthly, or $307 per three months.
They have some sort of a free trial, but it's not a complete one. Namely, you can try three auto-posts, DMs, and hashtags for free.
They also offer to sell you VPN service along with their tool, which is a bit shady.
Is Ingramer Legit?
It seems that Ingramer is legit, but I'm not completely sure about it, even though I've tried it.
The thing is that I couldn't reach their management, and the customer support is unavailable for live chat.
Reviews of other people on the Internet are varied – some reviewers on Trustpilot.com say they are satisfied with the service, and some claim that it's an intricate scam.
They seem to have a strong PR team that promotes services all around the web.
Also, being an Instagram bot, I'm not sure how they utilize their services. I don't think it's a complete scam, but I wouldn't be surprised if their services stopped working sometime in the future.
Is Ingramer Safe?
Partially.
While they have a secure https website, and there's no sign of fraudulent activity when it comes to the payment gateway, it's not safe for your Instagram account.
I mean, they won't steal your password or something like that, but their practices can (and probably will) put your account at risk of getting banned.
So, while nothing will happen to your data after you purchase and use Ingramer, you can experience problems with your account – and the recovery process is a bit of a hassle, to be honest.
PROS and CONS
| PROS | CONS |
| --- | --- |
| Doesn't require downloading | Will probably get your account blocked |
| Secure website | Mixed quality automation |
| | They have hard sell tactics |
| | Unresponsive customer support |
| | Pricey |
| | The company could be a scam |
| | The DM feature is difficult to set up |
Ingramer Review: Final Verdict
Ingramer bot will completely automate your actions, but is it a good way to go about Instagram growth?
If you use bot practices, you can come off as a robot with a weak personality. People want to know you on a more personal level. Plus, Instagram can ban your account if it detects automated actions.
So, the human factor is missing with Ingramer, and it really shows.
An example of a smart strategy for Instagram growth is getting real and organic followers. You should have the right tools to achieve it. In the table above, you can check out some prospective Instagram tools that can help you stand out from the crowd.
Top Instagram Growth Services
If you're still confused as to which service you should use to grow your Instagram account, don't worry! We've put in all the hard work for you and tried out numerous such tools. Check out the table below for our rankings!