Nowadays, if you want to grow your business, it's almost essential you have an Instagram account. This is why Instagram growth services have never been as popular as they are now.
That being said, I have extensive experience regarding such tools, and one of the most recent ones I tried is the Idigic.
iDigic is actually one of the largest Instagram followers providers out there.
Speaking of that,
Growing a huge following and making yourself known on the platform is not an easy task. It requires time and dedication, but luckily, there are social media tools that offer to do it for you. Upleap is one such tool and it's the best one around- take a look at my review here to see why.
Back to iDigic now…
But are they trustworthy?
They claim they can make an Instagram sensation out of you overnight – a bold statement indeed.
Is it true, though?
Can they provide you with enough followers in such a short time to make you famous overnight?
Even if they can, there's a much larger question at stake – how real are those followers?
Are they bots or not?
Stay with me until the end of my iDigic review to find out!
What is iDigic?
iDigic is an Instagram growth service. They help you grow your account by selling (supposedly) real followers. They believe all you need for success on Instagram is a huge following.
I'm not sure that's all you need, but it certainly is an essential step towards Instagram stardom.
Besides followers, iDigic also offers likes and video views. They all come in separate packages (more on this later), so if you wish to combine, for example, likes with followers, you have to buy them separately.
This is a tad inconvenient, and not to mention, it can turn out to be pricey as well.
From my experience, I must admit iDigic is a decent quality tool, and you can expect them to deliver. You'll get your likes, views, and followers for sure. The real question is – will you get to keep all of them?
Here's the thing.
After a while, I noticed Instagram was deleting my followers acquired through iDigic. This made me suspicious of the quality of their so-called real followers.
Other Popular Instagram Growth Tools
How does iDigic work?
iDigic works similarly to other followers-buying tools.
You need to choose from a wide range of packages and provide them with your info. I really appreciated that they don't ask for your password. You don't even have to register or leave an email account.
All iDigic requires is your Instagram handle and that's it.
Once you pay for the selected package, your followers/likes/views will start pouring in after only 30 seconds, so it's fair to say iDigic works fast.
But does it work well?
Popular reviews you should also read:
Generally, I was pleased by iDigic. I gained a few followers quickly after paying for them, as they promised, so you can rest assured they won't trick you there.
The problem occurred when I realized I lost some of those followers later on. I couldn't help but wonder – if those were real followers, why would Instagram remove them?
I'm not entirely sure, but a fair guess would be that, while some could be real, there are probably bots involved as well.
iDigic features
Now that you have a general idea of what iDigic is, let's get into details of what they offer. So, how does iDigic help you grow your Insta account?
Buy Instagram followers
Selling followers is iDigic's primary focus. They firmly claim they only sell real followers.
This is what intrigued me the most, and why I (among other reasons) decided to try it out. While they use the word "real", they don't really provide any evidence to back it up, so I figured I should see it for myself.
iDigic separates high-quality from super-quality followers. What's the difference, you might ask?
It's simple. High-quality followers are those with only a profile picture but no posts at all, while super-quality accounts are more active, and therefore there's a higher chance they're real people.
It's also why super-quality followers cost more. In fact, they cost thrice as much as high-quality followers.
You can buy anywhere from 100 to 5000 followers at a time, and I highly suggest you go with super-quality ones. Yes, they are pricier, but Instagram will like them more. Buying real followers is the whole point, isn't it?
Buy Instagram likes
Likes will help you improve your engagement, and many consider them a good metric to measure your success on the platform.
iDigic doesn't specify where your likes come from. Do they come from high-quality accounts or super-quality accounts?
It's up for discussion.
iDigic has packages from 50 likes to 10000 likes. If you go with larger packages, you'll receive about 1000 likes per hour, give or take.
If you need Instagram likes, the best strategy would be to get the 10000 likes since you can split them between multiple photos and videos.
While I'm uncertain about the quality of accounts behind the likes, I have to say it's not a scam – iDigic will get you your likes.
Buy Instagram views
Instagram video views can be very useful since Instagram prioritizes them over video likes. If your account is focused mainly on videos or IGTV's, you could really benefit from video views.
They're the cheapest of the three, likely because they're not as popular, which means you could get a really good deal.
You can purchase up to 50000 video views, all coming from high-quality accounts. As with likes, you can also divide the views between different videos.
iDigic pricing
To make iDigic's follower pricing list more simple, I'll break it down to you.
iDigic has 6 different packages for both high-quality and super-quality followers. Prices for high-quality followers are the following: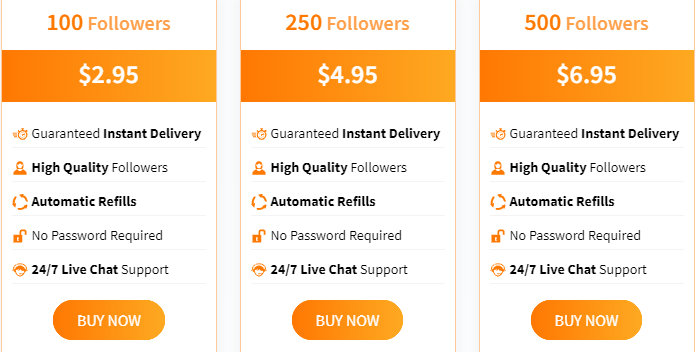 These price points seem reasonable, but keep in mind these are not the super-quality accounts. If you want those, you'll have to loosen up the coin purse a bit:
Don't forget that these are all one-time deals, so you'll have to pay again if you want more followers.
As for likes and video views, I highly recommend you take a look at their website for a more comprehensive view.
All things considered, iDigic's prices are not too over the top, but they're not exactly cost-effective either. Especially if you want to combine packages, or you have more than one account. If that's the case, I don't see how this could pay off for you, neither now, nor in the long run.
There is a free trial where they give you 10 followers, but you can't really tell much about iDigic solely based on that.
If you want to find out about similar but less expensive (and more efficient, by the way) services, I included them in a table at the end of this article.
Is iDigic legit?
In a nutshell – yes, iDigic is legit.
They work quickly and efficiently, and they have around the clock support available for their customers.
I do, however, still question whether the followers are 100% real.
Is iDigic safe?
There's no reason to question the safety of iDigic.
First and foremost, they don't ask for your password or any sensitive account info, which is always a good sign.
Secondly, they have a secure website and various methods of payment. They accept all major credit cards, and some local payment options as well, such as WebMoney, BankContact, iDeal, etc.
If, in any case, you're not completely satisfied with their service, iDigic will give you a full refund.
iDigic has been in the game for a long time now, almost since the beginning of Instagram in 2011. I've searched the Internet for customer reviews, and most of them are either indifferent or have a positive sentiment – regarding safety at least.
As for the authenticity of the followers, I've found that most people on TrustPilot had the same issue as I did. I'm still on the fence regarding this.
iDigic PROS and CONS
| PROS | CONS |
| --- | --- |
| It's a legit and safe business. | iDigic is on the expensive side. |
| They have some interesting features. | It's too pricey if you have more than one account. |
| | The authenticity of followers is not guaranteed. |
| | You could get in trouble with Instagram due to potential bots. |
| | There's no free trial by which you could really experience iDigic. |
| | Trustpilot reviews show a lot of negative sentiment regarding the authenticity of the followers. |
Final verdict
So, is iDigic trustworthy or not?
To be perfectly candid, it's neither here nor there.
On the one hand, they are legit, it's not a scam made to trick you. One thing's for sure – you get what you pay for.
On the other hand, you're probably paying too much. From my personal experience and extensive research, there are many services that work better and are also far more affordable.
I'm still skeptical about their claim to provide only real followers, and I don't think you should risk ending up with bots, especially for that price.
Besides, if you're looking to grow your Instagram account, it's always smarter to do it organically, with the help of growth services I listed out for you below.
Top 10 Instagram Growth Tools
With Instagram clamming down on dubious accounts, it might actually payoff more in the long run to grow your account organically.
Rather than buying Instagram followers (even if they are real ones), check out the table below for services that help grow your account! We've tested many over the years before coming up with this table.