Upon its creation, Instagram was a simple platform where people shared selfies, pictures of their dogs, and an occasional meal photo. Today, Instagram is a giant network with over 1 billion active monthly users.
Instagram's influence on millennials and gen Z is undeniable, so business owners and influencers are looking to use the most out of it.
So, it's only logical that competition is tougher than ever.
You can try to stand out among thousands of people who are just trying to pave their way to success on Instagram, but it's not going to be easy. However, it's not unattainable either.
With the help of a reliable Instagram growth service, you can achieve anything. But you gotta know how to separate the real ones from the money grabbers.
Today's topic is a service called Getriver.
What is their deal? Are they the key to Instagram stardom or just another scam?
Get into my Getriver review to find out!
What Is Getriver?
Getriver is a growth service that used to focus on full automation but recently they switched their strategy. Now, they're using social media managers, who are, allegedly, real people.
With companies that offer a personal team or a manager who's a real human, that's not usually the case.
It's rare to come upon a growth tool that will provide you with an actual person you can interact with. Most of the time, they're bots.
What this means is that Getriver is actually an Instagram bot. That wouldn't be such a huge problem if it weren't for Instagram's rigorous anti-bot policies.
No matter who or where you are, Instagram has advanced detection tools that spot bot activity so you could get in trouble. Your account could get action blocked, suspended, or even banned completely.
That's why bots are bad news.
Other Popular Instagram Growth Services
How Does Getriver Work?
To use Getriver, you first need to sign up. Then you have to choose a plan that fits your needs, and you need to provide your manager with the information they need to optimize your account.
It's a simple process really, but does it work?
Well, in theory, this process should work like a charm.
Does it work in Getriver's case? Yes and no.
I've gathered info from plenty of reviews, and there were more disappointed users than I expected.
While, on the surface, Getriver seems like a perfect tool, it turned out it's too good to be true. That's kind of always the case when there's a bot involved.
Bot activity will put you on Instagram's radar, and it will likely bring more bots to your account.
Popular reviews you should also read:
While gaining fake followers will boost your following in terms of numbers, they probably won't stay for long. Instagram's bound to remove them at some point.
That being said, there were also reviews that mention how great Getriver is. Some people say it managed to get them real followers and real engagement.
However, we can't ignore the possibility of those reviews being fake, but I'm willing to give them the benefit of the doubt. I guess there's a chance you could gain a few real followers from Getriver.
Getriver Features
Getriver's website makes it seem like they have three different strategies for three groups:
Instagram Influencers
Businesses on Instagram
Professionals on Instagram
That's how they advertise it, but they offer exactly the same features for all of the three. Let's see what they are.
Follows/Unfollows
These two and all the other features used to be done automatically, but now there's a dedicated manager that does it for you.
Once you subscribe to a plan, you'll have access to their dashboard, where you can track your account's progress and activities.
It also includes a section where you need to choose hashtags and your manager will use them to follow other people. Since the manager is most likely a bot, there's really no guarantee it won't follow and attract other bots to your profile.
Hopefully, most of the profiles it follows will be real people who will want to follow you back.
Likes
The likes feature works similarly to the follow feature. Based on your preferred hashtags, your manager will like posts hoping to bring attention to your profile.
This one can be a bit tricky if your manager is a bot since it can like too many posts in a short period, making you look suspicious, and eventually getting your action blocked.
Instagram experts customer support
Yes, this is what Getriver calls their customer support. It's supposed to be a team of Instagram experts who are at your service 24/7.
Based on customer reviews, they are available around the clock, but it's very questionable how much of experts they really are.
And that's basically it.
Getriver doesn't have many of the features that other similar tools offer, like schedule posts, automatic comments, automatic DMs, etc.
Getriver Pricing
For the very basic features they offer, Getriver is really pricey.
They have two plans, and only one is listed with an actual price. The other one just says you have to contact them first.
So, how expensive is Getriver?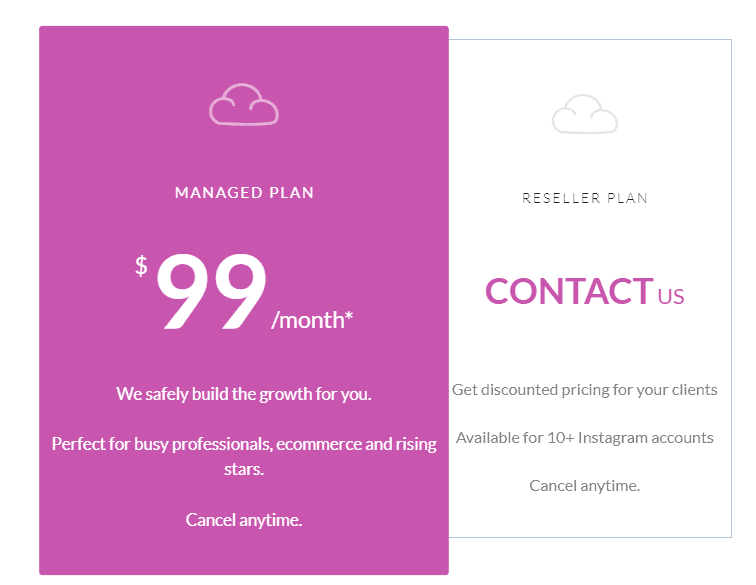 The Managed Plan, which is ideal for professionals and rising stars (according to Getriver), will cost you a hundred bucks.
Yep, that's $100 every month. For one account.
The Reseller Plan includes 10+ accounts, but they don't specify the price.
The good news is that you can try it out for free – there's a 3-day free trial in case you're interested in their service.
However, once you pay, that's it, you won't get any refund.
But, here's my main issue with this service.
Some users complained Getriver continued to charge them after canceling their service, and a few said they charged above said price.
Even one negative review of this kind is a major red flag that the whole company could actually be a scam – and let's just say there were more than one.
Is Getriver Legit?
I can't, in good conscience, claim that Getriver is 100% legit.
I don't think we should overlook the issues reported by clients regarding money and payment. It shouldn't be taken lightly and it seriously makes me question the whole integrity of Getriver.
Is Getriver Safe?
We've established that there's most likely a bot behind the 'real' managers, and where there's bots, there's lack of safety, for reasons which are now quite obvious.
Plus, all the money shenanigans make it even less secure.
PROS and CONS
| PROS | CONS |
| --- | --- |
| Customer support is responsive | Expensive |
| 3-day free trial | Concealed bot activity |
| | Dishonest practices |
| | Too basic features |
| | No refunds |
Getriver Review: Final Verdict
So, what's the deal with Getriver?
Well, I'm not impressed.
In fact, I'm kind of disappointed. For a couple of basic services performed by bots, you have to pay serious money.
So in the end, it's simply not worth it in any way.
A word of advice from someone who's seen a lot in the whole Instagram automation business – continue your research until you find a trustworthy growth service.
Top 10 Instagram Growth Tools
If you need help deciding which growth tool to use, check out the table below! We've tried and tested many over the years and ranked our favorites in the table below for you ease.