Instagram marketing tools promise a lot – from finding you the right audience through analysis and active engagement to the stability of growth.
The neverending question is: How many of them can deliver their ambitions?
The Combin reviews that circulate around the Internet aren't very recent, and their stances leave you with nothing but confusion.
It seems that the tool used to work, but that it is experiencing continuous problems.
This Combin review is an endeavor to clear the air and crystallize the advantages and disadvantages of this Instagram Bot and Scheduler.
Does it achieve what it's supposed to, or is it a scam?
Let's find out.
What is Combin?
The general idea of what is Combin is the following: it's a two-way Instagram tool, a Bot and a Scheduler.
Both of them should connect you with an authentic audience. They shouldn't clog your account with temporary visitors, accounts, and likes, but secure an active and constant engagement level.
The promised features appear exciting and appealing. Unfortunately, Combin Instagram features seem not to be working anymore. Earlier, you had to download Combin onto your PC to use it, which was a slight inconvenience, but at least it worked.
While scheduling features do what they ought to do, the tool itself doesn't stand out significantly from the rest of the colorful bunch.
Other Popular Instagram Growth Tools
How Does Combin Work?
Combin should work just like any other Instagram Bot – drive traffic to your Instagram account by means of automated actions, such as like, follow, and so on. Sadly, these features stopped working. The reason for this is still unknown.
The only working aspect of Combin remains the Scheduler that plans the posting of your media in advance.
Popular reviews you should also read:
How to Use Combin?
If you are wondering how to use Combin, here's the process.
To test out the tool, you must go through the following ordeal: subscribe to their mail list.
Okay, I am maybe exaggerating a bit – but I wasn't delighted with this part. Why not let the users try out the tool first? Then, if they like it, they will subscribe. Promotional emails can be a hassle, especially if you're not satisfied with your purchase.
You cannot try the tool online, but you have to subscribe, and then download it.
The desktop application is compatible with Mac, Windows, and Linux operating systems. So, as far as their user inclusion is concerned, it's broad and all-encompassing.
Once you install the tool, it takes you to an interactive dashboard, which should allow you to search and target the specific user audience interested in your niche.
Combin Features
Let's go over the features of Combin and their responses as I've tested them out.
Instagram Search
Through the Combin dashboard, you should be able to combine hashtags and locations to search for your ideal audience.
There are a lot of repetitive features that they state, such as "audience management," "target audience," etc., but they all come down to the same goal – finding people it should connect you with.
Interaction Features
From there on, Combin should automatically follow, like, comment, and message the users it has found.
Unfortunately, Instagram restricts these features. Therefore, you'd be able to get only around 5 likes for, say, 5-6 hours. Not quite fast, huh?
If you somehow still manage to utilize the features, it will result in the ban of your account, which will last for a minimum of one week.
Growth Monitoring
Like, comment, follower, and unfollower count should be available for preview on a daily, weekly, or monthly basis.
You should also be able to regulate who you are following through the dashboard on a large scale.
Considering that the basic Instagram features don't work, objective growth monitoring isn't possible, either.
Multiple Accounts Management
Depending on the chosen plan, you can manage up to five Instagram accounts, or purchase additional features to increase their number.
Scheduled Actions
Combin currently works only as an Instagram Scheduler. This means that it can automatically post your content whenever you choose.
You can schedule your photos, videos, and stories for hours, or even weeks ahead. In addition to freeing your time for other tasks, this is handy because your posts will reach more people if they are published at certain times of day when there are more users online.
The feature itself doesn't stand out, as it corresponds to that of many other Instagram tools.
Combin Pricing
Let's check out the pricing of the plans offered by Combin:
Combin provides a free Starter plan. While it states that it is a seven-day trial, you are limited with 50 search results per post and 25 search results per user.
A fair warning for all of you that want to try it out – the free trial offers a minimal scope of features, and only a limited amount works.
This means you can go through your free plan in, basically, half an hour, depending on how busy a bee you are.
If you are interested and eager to test everything out like I was, you'll chew it up in seconds.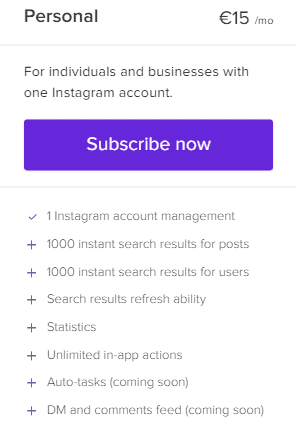 "Seems" is the keyword here. A plan that costs €15 a month has two coming soon options, which should be the first red flag.
The second shortcoming applies to the same issue that I had with their free plan – most of the features don't work and don't actually boost your Instagram account.
Therefore, the "unlimited" in-app actions are synonymous with the basic scheduling features that I mentioned previously. Many other apps can replace those actions for a better deal.
For double the price (€30 a month), you can manage up to 5 Instagram accounts and have the possibility to purchase ten more account management options.
The rest of the available features don't stand out or differentiate that much, except for the price you pay. Again, there are the questionable Instagram growth options, with two "coming soon" ones.
In my opinion, while the price of Combin tariff packages isn't that high (at least for the first two), it still isn't justified.
Is Combin Legit?
There are a couple of issues about the reliability of Combin that I would like to address.
I held onto my reservations from the moment that I saw that Combin needs to be downloaded to be used.
While the tool doesn't take up too much space, I simply don't feel at ease downloading external software onto my computer. I still went ahead with it, which isn't a risk many users are prepared to take.
There weren't any issues along the way, though, and it passed my antivirus test.
From then on, they do not have 24/7 support, be it chatting or by phone, which seems like a massive issue for problems that need to be dealt with immediately. Their supposed agent is constantly "away."
Yes, there is an extensive FAQ page, but the human support factor is missing.
The third problem was the lack of authenticity when it comes to user reviews.
Satisfied users are the confirmation that something works, in my opinion. The apparent lack of them on Combin website and TrustPilot wasn't too assuring for me.
Especially when it comes to Instagram marketing, questions like: "Is my account going to get shut down, banned, or compromised because of this tool?" shouldn't be necessary. They are a sign that a tool might not be legit.
Is Combin Safe?
While the dubious mailing list subscription and the lack of reviews don't seem trustworthy, Combin can be safe.
Their site has an https URL, which translates to the site being secure. So, in that aspect, it's safe to access the website.
Also, they offer two payment options.
If you don't feel safe leaving your credit card info, you can complete the checkout via PayPal.
However, your Instagram account can get banned if you use Combin, and the recovery process oftentimes can be prolonged. That's why I wouldn't label it completely "safe."
PROS and CONS
| PROS | CONS |
| --- | --- |
| Scheduler doesn't have any bugs | Slow growth |
| | Any feature besides scheduling doesn't work |
| | Risk of getting banned |
| | Requires a mail subscription |
| | Lack of genuine reviews |
| | No online support |
Final Verdict
Back to the question from the beginning of this Combin review:
What happened when I tested it?
Nothing spectacular.
Combin, as an Instagram growth tool, isn't a good choice. What makes me say this?
The coming soon features in their plans, the lack of genuine user reviews on their website and general mediocrity of the features.
Taking pricing into account, I believed that there would be a stark difference between the two packages, but it is minimal.
That said, there are safer, stabler, and more reliable alternatives that can do just the same amount of things that Combin promises (but fails) to do, if not more.
For now, this tool remains broken under construction, or, in their own words – coming soon.
Top 10 Instagram Bots
If Combin has disappointed you and you're looking for an alternative to grow your Instagram account, be sure to check out some of the tools I've listed below. They have all been tried, tested, and ranked for your convenience!