Have you ever heard the phrase 'social proof'?
It's a term coined in the 80s, but it's widely applicable today – in a bit different context.
Although not the original meaning, social proof now refers to how the number of followers and likes someone has positively affects how other users perceive them. In short, it means that attracting (positive) attention on social media is essential if you want to succeed there.
But that's easier said than done.
Don't want to spend time comparing and just want the best service? Then I suggest Upleap. They're hands down the best service for getting reliable followers on the web. Check out our thorough review.
Establishing your dominance on massive platforms like Instagram is a time-consuming task that requires patience and effort. That's where Instagram growth services come in.
Today's topic is a service called Audience Gain.
Are they the right choice for your Instagram career?
Do they run a legit business or perhaps not?
You can find out in my Audience Gain review!
What Is Audience Gain?
Audience Gain is a company that sells followers for 8 social media networks. Besides Instagram, you can use their services to enhance your accounts on Twitter, Facebook, Youtube, Snapchat, LinkedIn, Twitch, and Soundcloud.
They believe that using Instagram for business is only about having as many followers as possible.
I get the point, but that's not all there is to it.
Yes, seeing a double or triple-digit before the K on your profile page is awesome, but it doesn't mean a lot if those followers are fake followers, i.e, bots.
Moreover, they claim they have a way of getting you millions of genuine followers overnight, and they promise it won't get you flagged. Millions of followers is a giant number most users can only dream of, so for them to simply state it like that, it's kinda devious.
On top of all this, Audience Gain actually guarantees that there are no risks attached to buying followers from them.
But we'll see about that.
Other Popular Instagram Growth Tools
How Does Audience Gain Work?
Audience Gain has a few different packages for each of the 8 platforms. They all include a certain number of followers, likes, views, and so on.
So how does it work?
The first thing you need to do is select a package and place an order. Shortly after that, the Audience Gain team will analyze your account, content, audience, popularity, existing followers, and your engagement.
This is a necessary step that allows them to create a profile they will pass on to the strategy team, as they call it.
As per their website, every user is unique, therefore, every campaign is different. They claim to create a personalized campaign based on your profile evaluation to provide you with the best social growth tactics.
Popular reviews you should also read:
In addition to this, Audience Gain will also come up with a schedule they have to follow strictly. They will monitor your progress the entire time to ensure it's moving on the said timetable.
And that's pretty much it, folks.
I guess you could say their services are straightforward so naturally, I had to ask:
What could go wrong?
Audience Gain Features
Undeniably, their most popular packages Audience Gain offers are for Instagram and Facebook, so I'll tell you a bit more about them.
Instagram features
The number of followers you want to purchase is entirely up to you.
I always recommend going with the smallest package, especially when a company promises to deliver them instantly. If that's the case, go with 500 or even fewer followers, because there's less chance Instagram will notice you and flag you for suspicious activity.
Audience Gain offers you to buy up to 100K followers.
I don't believe buying that many followers is a good idea, and here's why.
If you gain a few hundred followers at once, it may pass as plausible under certain conditions, but a few thousand or tens and hundreds of thousand cannot be justified.
It screams bot activity, and you can't fool Instagram.
But that's not the only issue.
The package with 100000 followers is costly, and based on the multiple reviews I found on Trustpilot, Audience Gain doesn't deliver all of the followers you paid for.
A few users stated that they did receive the exact number of followers, but Instagram removed them.
This is not shocking news since Instagram has a way of separating bought followers from truly earned ones. And they have a long history of deleting purchased accounts.
Apart from followers, you have the option to purchase likes and video views.
Facebook
Audience Gain likes to consider themselves the number one service for a successful profile on Facebook.
They can get you likes for your page, photos, and posts. Followers, shares, and comments are also a part of the Facebook deal.
One thing that really surprised me is the price difference between Instagram followers and Facebook followers.
I, for sure, wasn't expecting Facebook followers to be almost 10 times more expensive than followers on Instagram.
The same goes for other features.
So, if your plan is to slay it on Facebook with the help of Audience Gain, you're gonna have to spend some serious coin.
Popular reviews you should also read:
Flock Social Features
As I continued to scroll down their main website, I was eagerly searching for a list of their main features as I strongly believed that their price-to-value ratio wouldn't disappoint (more on their pricing later).
Luckily, Social Flock continues to bring in the good news, especially when it comes to:
Targeting Options
Most social media growth platforms don't have a lot to offer in this department, as they mainly function by providing you with Instagram bot services.
However, when you have a genuine business model that strives to elevate your social media rankings, their services usually consist of the following:
Hashtag targeting
Influencer and Competitor targeting
Location targeting
This is only a glimpse of their primary mechanisms – the entire list marches forward extensively.
Personal Account Manager
As I already mentioned, Flock Social offers a wide range of professional Instagram account managers that will observe and supervise your social media growth from day one.
Ensuring the safety of your precious Instagram account, as well as maintaining a meaningful Instagram growth procedure – your personal account manager will stay by your side at all times.
Priority Support and Consulting
It's a good feeling knowing that you have someone to take care of your problem when and if you have one – a personal account manager will reach out to you shortly after you appoint a meeting through messages or, eventually, a voice call.
I didn't joke when I said that they stay by your side – every step of the way!
Popular reviews you should also read:
Flock Social Pricing
In most cases, social media growth platforms deemed unfaithful will try to hide their business plans and pricing packages, revealing them only during the last few steps before the transaction is completed.
With Flock Social, no faulty agreements and secrets are lurking behind – two plans are presented, and depending on your wishes, you may choose between the beginners and advanced packages.

Personal Instagram profiles will usually lean toward the beginner's package, as they don't necessarily wish to engage with countless people but just slightly boost their social media presence every month.
However, the advanced packages should be used by larger profiles eager to contend with other Instagram profiles with a large audience behind them, if you ask me. But everybody's free to use a plan they see fit for their needs since that's what's most important at the end of the day.
Is Flock Social Legit?
Trustpilot is a reputable source of user feedback. Currently, you can find a total of 116 reviews on Flock Social. Although we are primarily focusing on the Flock Social reviews – you can check other reviews for similar online companies that delve into social media growth.
Both people from Trustpilot and my personal experience will lead you toward the same conclusion – Flock Social is a legit social media growth platform.
PROS and CONS
| PROS | CONS |
| --- | --- |
| True conversations | The monthly plans are slightly pricey. |
| Real engagements | |
| Targeted followers | |
| Instant delivery | |
| Excellent customer support | |
Flock Social Review – To Sum Things Up
What's there else to say?
Average social media growth platforms can't compete with the overall services and trustworthiness that surround Flock Social. Still, I was eager to give you my take on Flock Social review, just to be safe.
At the end of the day, it's better to hear from one more person what they thought of a product or a service since that's what bases the general sentiment towards it on the market.
As I was digging around for answers regarding Flock Social, I found that it's a successful company that takes care of your beloved Instagram profiles with tenderness.
Stay tuned for more reviews on social media growth platforms!
Top Instagram Growth Services
Before you depart, I highly recommend you take a quick look at the table below, which contains the most reliable organic growth companies!
Audience Gain Pricing
When you glance at AG prices, they might seem very affordable at first. But don't forget these are all one time deals and for one account only.
To give you a sense of what I was saying before about Facebook services being way more expensive, I just want to make a quick comparison.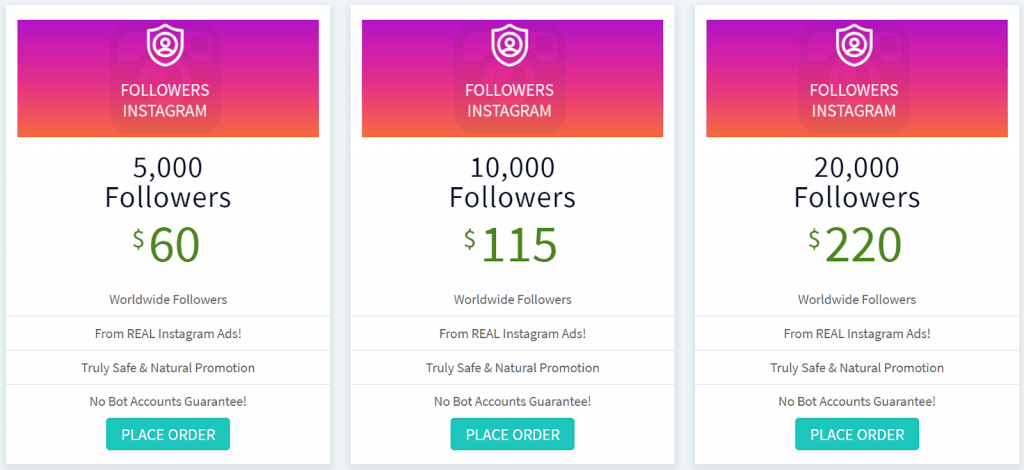 The largest package with 100K followers will set you back 990 big ones, so you may want to think this one through before you opt for it.
As for Facebook prices, they are as follows:
You can clearly notice the price difference.
A thousand Instagram followers can be bought for $14, while one thousand Facebook followers go from $120.
Oh, and there's no free trial for any of the packages.
Is Audience Gain Legit?
Audience Gain seems to be, by all means, a legitimate company.
Apparently, most of the followers they sell turn out to be real, but they're still bought so don't be surprised if Instagram removes them at some point.
Popular reviews you should also read:
Is Audience Gain Safe?
There's really no reason to doubt Audience Gain.
Their website is fully secured and so are payment options. You don't have to leave any passwords or info you'd maybe be uncomfortable sharing.
PROS and CONS
| PROS | CONS |
| --- | --- |
| It's safe to use | Many of the purchased followers get removed soon after |
| | Not exactly a budget-friendly service |
| | The possibility of bot followers is ever-present |
| | No free trial |
| | Not a viable long-term solution |
| | You may not get all that you paid for |
Audience Gain Review: Final Verdict
Is Audience Gain the right choice for becoming famous on Instagram?
Well, yes and no.
They're alright if you want to gain some followers. But are they the best solution in the long term?
I'd have to say no. Their services are just too expensive to pay off in either short term or the long run.
The better option would be to focus on alternative growth services that will boost your accounts organically. I've listed some of the best tools in the table below, so make sure to check it out.
Top 10 Instagram Growth Tools
The instant gratification that Audience Gain promises might seem enticing, but be warned that your account might get flagged for the very same reason.
Many who have used this service complained that they did not receive the amount of followers that they paid for. Thus we have reason to believe that Instagram is deleting accounts that they deem suspicious.
Rather than taking that risk, why not grow your account organically using some of the tools we have listed in the table below? We've ranked them for your convenience!