If you have come across this article, the chances are that you have already spent some time researching specific LinkedIn tools, but that you are not 100% sure when it comes to their reliability.
This is completely understandable. This is a significant and large platform that is in constant (virtual) interaction with its users. When it comes to LinkedIn tools, the fact is that there are too many of them on the Internet for you to research in detail.
That is why there are reviews like this one, to save you the time and either direct you or distract you from a particular service.
Today's topic will be Linked Helper. If you've spent a little more time on the Internet, you've probably heard of this source. And if during the search, you had any doubts about the services of this tool, you were right.
My warm recommendation is to stay until the end of this Linked Helper review and read carefully what I was able to gather from the information.
If you are done looking for a service that just works, I have a solution for that as well. If you need a credible service, my recommendation is to go and take a look at AimFox. For additional reassurance, you can take a look at our AimFox review as well.
Now back to our topic…
A Preview Of This Software
When it comes to such services, it is always good to visualize the advantages and disadvantages. This is helpful to both you and me.
| PROS | CONS |
| --- | --- |
| The site has been updated. | The security of the services is questionable. |
| | Poor customer support. |
| | Onsite reviews seem to be fake. |
| | Lack of company information. |
| | There are no reviews on Trustpilot. |
What Does Linked Helper2 Do?
According to the site I'm currently on, Linked Helper2 is "the safest and most powerful LinkedIn automation software and CRM."
To simplify the matter in the second part of this statement, CRM stands for Customer Relationship Management. This is the part of the software that contributes to the access of customer information and introduction to the database.
According to these features, Linked Helper2 helps you:
automatically invite new contacts with a personal note
auto-responds to new messages
increases your organization's social representation
It also contains essential Recruiter Information and a Sales Navigator.
Recently, this platform has expanded, basically adding the previously stated CRM features. However, precisely because this deals with certain information and its forwarding, one should be careful.
Linked Helper2 seems to be very confident about the services it markets, so after these features, it has continued to list down why you should choose them.
There you will find reasons such as endorsing skills, automatically accepting and inviting contacts, daily limits, etc. In any case, it's nothing out of the ordinary, but when a lot of promises come together in one place, you should make an effort to fulfill them.
The Uncertainty Of The Site
Before we start concretizing the actions of this particular tool, it is essential to emphasize and remind anyone who is reading this the importance of the general credibility of the site, company, or any source with which you choose to do business.
Also, the platform on which you operate is too large for any service offered to be 100% accurate.
With Linked Helper2, things look great and almost flawless at first glance, but is that really the case? I very much doubt it. Many sites adorn their homepage with bold statements that are just that – words on a screen.
The prices paid for such exaggerated and close-to-false statements can cost you your private information. A credible and reliable company will try its best to fulfill its promises, or jump in to help their customers if something goes wrong.
The security of Linked Helper2 is under question at the moment. The first thing that makes me doubt this is that there is not much information about the company and its employees.
With that said, I think it is only right that when it comes to such services regarding softwares, it is vital to keep in mind who you are relying on.
So, what raised my suspicions about the security of this particular tool? As an example, I will single out this comment from a customer who used this tool. While this was not the focus of the statement, it certainly raised some questions.
Things like this should not be ignored, even if they are not the focus of someone's review. I came across similar comments with a few other people where they claim that Linked Helper2 has specific bugs and that it stops when the screen is minimized.
A well-developed automation software shouldn't have these "basic" problems, right?
No Official Customer Support
As I mentioned a few seconds ago, when something goes wrong while using the service, it is crucial to have active customer service.
In the specific Linked Helper2 example, this is not the case. After looking at the homepage two or three times, I couldn't find a click that redirects me to customer service.
Namely, in the lower right corner, there is a "help" option that, at first glance, looks like a chat. However, here customer service is realized in the form of e-mail. And we all know how long you can wait for a response.
I would have to say that this is a minus, especially in emergencies.
Onsite Reviews – Suspicious?
It is certainly not the first time that neither you nor I have come across online businesses that use part of their homepage to promote success with past users. Linked Helper2 is no exception either, but it starts to be suspicious when it crosses a specific limit.
Take this review as an example.
This is just one of a dozen of these, written in the same style. It is no secret that the company's employees themselves write such reviews under fake names. I also saw some who didn't even change their name.
Still, this is not a plus because most users have a terrible experience with potentially fake onsite reviews, precisely because they promote non-existent quality.
No Reviews On Trustpilot
In order to partially confirm the story of fake reviews, the fact that there is not a single review of Linked Helper2 on Trustpilot (a credible review site) speaks for itself.
Neither bad nor good. See for yourself.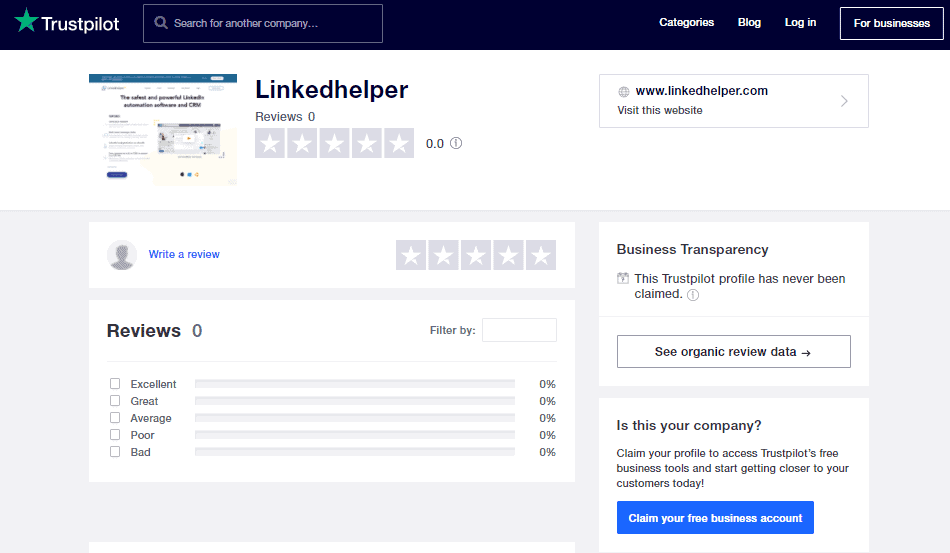 This raises many questions, from is Linked Helper2 legal to is Linked Helper2 even a real thing?
Like you, I'm tired of looking for a legit site that works how it's supposed to. This is the internet and finding a credible and safe service is hard. I've spent my time looking for such a service so you won't have to, and the only service that earned my recommendation is AimFox. You can take a look at our AimFox review as well to see how they stack up.
Linked Helper- Summing Up The Facts
It's time to conclude this review and opinion on Linked Helper2. So let's go through the points together and list down the characteristics of this LinkedIn Automation Tool.
lack of information about the company itself and its employees
no active customer service
potentially fake onsite reviews and no reviews on Trustpilot
overcrowding features on the homepage
occasional errors and blocking customers from the site
If you agree with me after everything you've read here, then you know what to do: skip Linked Helper2 and look for some good alternatives that are worth your money!