Want to find out if the Glow project and the Glow token is legit or just a hype or even worse, a big phat scam?
We've been stalking the project in all the online communities and we wrote this extensive review that covers everything you need to know about Glow.
Aidrops, token distribution, how to buy GLOW tokens, ARP, how does GLOW make money, and finally, if it's a scam or it's one of those rare gems in the crypto world that can make you rich.
Ready? Let's dive right in!
What is Glow?
"Glow is bringing to life a world of dApps that leverage DeFi yield to unlock new and exciting user experiences, accessible to everyone." – Source: Glow's Docs
Translation:
There are several decentralized apps (dApps) within the Glow ecosystem. Similar to how Facebook owns Instagram, Whatsapp and more.
The difference is that these are decentralized, web3 apps. This means that the whole community earns from contributing to the ecosystem (and using these apps).
How?
Well, you earn yield on your deposits. Simply put, you make more crypto with your crypto.
Similar to how you earn interest on your regular money when you deposit them in your bank.
Except you can earn more. Much more. Plus all the benefits of DeFI (decentralized finance).
Here's an example:
Glow Lotto is one of those dApps we were talking about.
It's built on the Anchor protocol and the idea is simple:
you buy lottery tickets with UST
on top of that, you receive 5% APR interest on your UST + GLOW tokens
you can win the lottery each week (paid in UST)
when you stake GLOW tokens, you can participate in the governance protocol (i.e. you can vote future decisions that will shape the protocol)
Now, what is the Glow token, how many of them are and how can you get some? Details, below.
What is the GOW Token
The Glow token (GLOW) is both a protocol-governance and a revenue-generating token.
This means that you can:
vote on future decisions of the protocol
earn from the income generated by the dApps in the Glow ecosystem.
The higher the Total Value Locked GLOW tokens are locked, the higher the weekly yield generated from Anchor.
Take glow Lotto for example. When a prize is distributed, Glow protocol takes a 5% cut, which goes to the reserve. This reserve is distributed among all the Token holders.
But here's the best part:
Glow has several apps that generate revenue. The more revenue they generate, the higher the value of the GLOW token will become. And the higher your return on investment.
This enlarges the awards distributed at the Glow Yield Weekly Lottery.
Glow Token distribution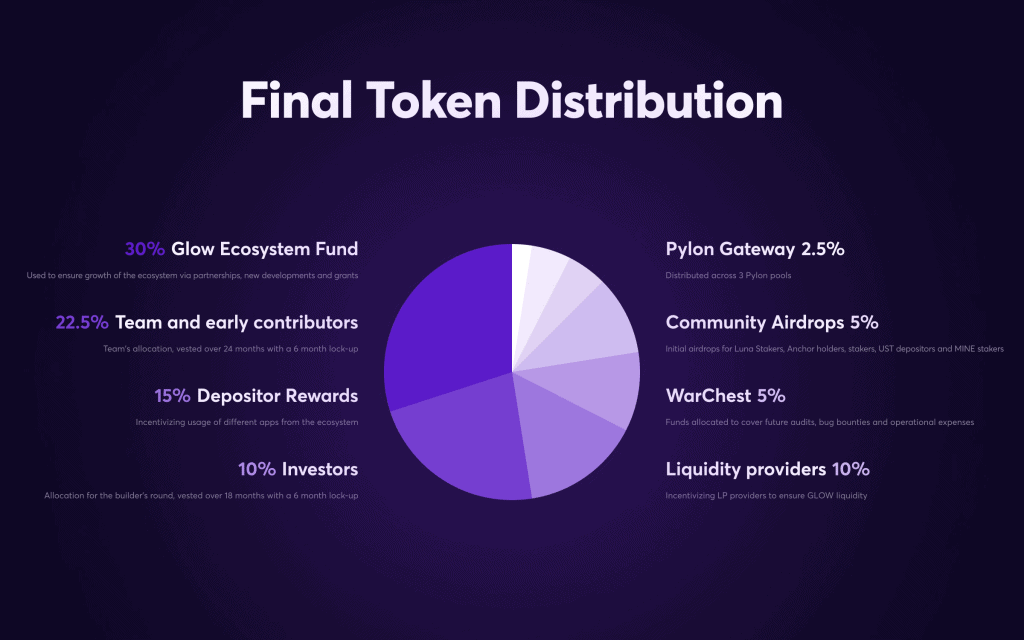 There's a total supply of 1,000,000,000 GLOW. All the tokens are going to be minted and distributed over a minimum 4-year period, starting at the launch token airdrop event.
There won't be more than 1,000,000,000 GLOW created.
How are all the GLOW tokens distributed:
Glow Ecosystem Fund, 300,000,000 (30%).
The community will distribute these tokens over the next 5 years in order to fund grants and strategic investments.
Team and Early Contributors, 225,000,000 (22.5%)
These tokens are vested for the following 2 years.
If you're just starting out in crypto, this means that 22.5% of the tokens will be reserved for the team and early contributors for the following 2 years, with a 6 months lock-up (i.e. you can't sell them within the first 6 months from the launch date).
Depositor Rewards, 150,000,000 (15%).
These tokens are the rewards meant to incentivize users and depositors. For example, in the case of Glow Lotto, depositor rewards are distributed following the Target Award Emission Algorithm*
Investors, 100,000,000 (10%).
Allocation for the builder's round, vested over 18 months with a 6- month lock-up.
Pylon Gateway, 25,000,000 (2.5%).
21M will be distributed across 3 Pylon pools. The remaining 4M tokens will be reserved for upcoming initiatives with Pylon community. More details to be announced.
Community Airdrops, 50,000,000 (5%).
These tokens will be distributed at the genesis and split among LUNA stakers, ANC stakers, ANC holders and ANC UST depositors.
WarChest, 50,000,000 (5%).
This is a reserve set aside to cover future audits, bug bounties and related operational expenses.
Liquidity Providers, 100,000,000 (10%).
For a period of 2 years, users who will provide GLOW-UST liquidity will be incentivized through these tokens.
To see the precise time when the tokens will be distributed, check GLOW's token page: https://docs.glowyield.com/glow-yield/ecosystem/glow-token-glow
GLOW Airdrops
From the total of 1 billion Glow, 50 million will go to the community through an airdrop.
In fact, it's a "fairdrop".
What is a "fairdrop"?
With a lot of traditional airdrops, many people receive such a small amount of tokens that it's not even worth claiming because of the transaction fees.
This is why there will be a minimum number of LOOP each address will receive in the aidrop.
In this way, the inequality in the distribution is prevented – i.e. a few big whales taking all. But at the same time it still recognizes the contribution of large stakeholders.
The fairdrop is done using mechanisms such as the quadratic voting and the quadratic funding.
Don't try to create thousands of new accounts
If you're thinking that you can game the system and simply create lots of new accounts in order to get your hands on as many tokens as possible, it will be a bit hard. Because they already have all the snapshots of the aidrop.
All snapshots have already been taken for our airdrop, so please don't try to create thousands of new accounts just to game this system!
We highly encourage people to use the airdrop to provide liquidity on our exchange and we will be rewarding liquidity providers with a total of 2,000,000 extra LOOP tokens in the first 4 weeks!
Who can benefit from the GLOW airdrop
You can benefit from the GLOW aidrop if you are a:
Luna Staker
Anchor Staker
Anchor Holder
Anchor Depositor
MINE Staker
When is the GLOW Aidrop Date
Airdrops will be claimable at ~19:00 GMT, 10th of January 2022.

You can buy GLOW from here: https://app.glowlotto.com/
Glow Token Address
This is the LEGIT Glow token address: terra13zx49nk8wjavedjzu8xkk95r3t0ta43c9ptul7
Be aware that there is a fake GLOW too. Avoid the scam!
How to get GLOW tokens
After the initial airdrop, there are two ways you can get GLOW tokens:
you buy them in Terraswap (start claiming them from: https://app.glowlotto.com/)
you earn them
Most of the token supply will go to the community as rewards for different contributions in the ecosystem.
Here are the 3 main ways you can be rewarded with GLOW tokens:
Depositor rewards
You can get rewards by participating in Glow Lotto. And you participate in the lottery by depositing UST.
In return you get up to 5% APR. After depositing, you also receive free lottery tickets – giving you the chance to win the weekly jackpot.
(you just have to score two consecutive numbers and)
These rewards are meant to incentivize the growth of TVL (Total Value Locked) and the assets managed by Glow Yield.
The higher the TVL, the higher the earnings for all the community.
15% of the total token supply will be distributed as depositor rewards in the next 4-6 years according to the dynamic emission rate algorithm.
Liquidity Provider Rewards
The more GLOW-UST liquidity is provided in Terraswap, the greater the success of the Glow protocol.
This is why you get rewards as a liquidity provider when you stake your LP tokens.
Please note that the LP reward program will have a 1-year duration since the token launch.
GLOW stakers.
The third way you can earn rewards GLOW tokens is by staking them.
But there's a difference with this reward.
These reward tokens come from the protocol revenues and not directly from the token supply.
What is GLOW's APR
You get up to 5% APR when you deposit UST in Glow Lotto. You also receive free lottery tickets after you deposit.
With these tickets you can win the jackpot, weekly.
What is Glow's Launch Date
The official GLOW launch is on the 10th of January 2022. It goes live on MAINNET.
You can claim your GLOW here: https://app.glowlotto.com/
Glow Token – is it a scam? Is it legit? Here's the final conclusion:
New tokens, coins and NFT projects spring up like mushrooms. Most of them are shit.
This is why before coming up with a conclusion, we do our homework well. We stalk them on Discord, we stalk the founders, we follow every Twitter thread we can find.
And we've found nothing sketchy.
They seem to get more and more traction on all the communities.
And the Terra/Luna community seems to be approving them as well, since it's another legit DAO contributing to the Terra ecosystem.
Final conclusion: Glow is legit.
And they show a huge potential of growth, their community getting bigger and bigger every day.