If you're reading this Surge Proxies review, I'm guessing you want to know all about this proxy provider. Well, I've got you covered!
In my profoundly thorough review, I'm going to uncover what's behind the curtains of this popular company.
I've also included a short overview below in case you're in a hurry. However, I do recommend reading the entire piece to get the whole picture.
Let's get started!
Surge Proxies Review Summary
| PROS | CONS |
| --- | --- |
| It's a trustworthy company | Doesn't offer many features |
| The proxies are fast | Too expensive for what it is |
| | Not many use cases |
| | Limited locations |
| | No rotating IPs |
| | Not suitable for small businesses |
| | No refunds |
Top Surge Proxies Alternatives
If you're a small business owner or an individual like me who needs proxies, Surge Proxies might not be the right choice for you.
From my experience, there are better proxy providers that offer more features for less money. I've listed them below for your convenience.
What Is Surge Proxies And How Does It Help You?
Surge Proxies is a company that offers two types of proxies:
Residential
Datacenter
You won't find out much about them from their website cause firstly, there's scarce info, and secondly, some of it is in Latin, for some reason.
I know what you're thinking – sounds shady, doesn't it?
Thankfully, there are many online reviews from their previous customers that give us a good look behind the curtains.
I've perused them all and gathered them into this review, so most of what you read below is based on Surge Proxies' ex-users experience.
Surge Proxies' datacenter proxies are more like "semi-datacenter" proxies because they are supported by an ISP network.
This is kind of unusual since most datacenter proxies come from servers in different locations and not ISPs.
The reason behind this is so these datacenter proxies can try to mimic residential proxies, which are real IPs.
Notice how I said try?
That's only cause I'm not entirely convinced this strategy works.
Nevertheless, datacenter proxies come in handy for some use cases, like:
Brand protection
Email protection
Web browsing
Cybersecurity, and so on.
If you need proxies for:
Large-scale data scraping
Automation software
Retail
Market research
eCommerce and similar
I suggest you go with residential proxies.
They are infinitely safer and more reliable than datacenter proxies. Sure, datacenter proxies are cheaper and usually faster, BUT they lack the necessary safety for certain use cases.
That being said, Surge Proxies largely optimizes their residential proxies for one particular use case: copping sneakers.
If you're looking to score some kicks, you could try their residential IPs on sites like Yeezy, Nike, Adidas, Supreme, and so forth.
How Surge Proxies Works
If you want to use Surge Proxies' service, you need to have a Discord account.
Namely, they don't have a typical registration form on their website. Instead, you sign in with Discord and choose a plan you want to purchase.
If you opt for residential proxies, you will need to select one of the five packages – 2, 4, 6, 8, or 10 GB.
And if you want to get datacenter proxies, you can choose between weekly or monthly plans. They also ask you to select a location, although they offer only one: Ashburn, VA.
After that, proceed to payment, and you'll gain access to the dashboard where you can generate proxies and keep track of your data.
Surge Proxies Features
Here's what you can expect to get from Surge Proxies:
Surge Proxies' proxy pool is pretty large – it counts 20 million IPs. Considering they bill per bandwidth and not per proxy, you can get a lot of use from this giant network.
I'm not sure how many datacenter IPs the Surge Proxies network has since they don't openly say it anywhere.
Now, this is what disappointed me the most.
Surge Proxies has datacenter proxies from only ONE location in the world – Ashburn, Virginia.
Also, they don't mention any locations for their residential IPs, so we can only guess where they come from.
I'm not sure why they're so secretive about this. Many customer reviews mention this to be Surge Proxies' biggest downside.
Sticky vs. rotating sessions
Another shortcoming is the lack of rotating sessions since they are helpful for countless use cases.
Surge Proxies doesn't mention the length of each sticky session, but, apparently, it's enough for sneaker copping, which is their focus.
Namely, sticky sessions allow you to successfully cop sneakers as they keep your address the same for the entire checkout process.
The only type of authentication Surge Proxies offers is username:password.
If you opt for Surge Proxies' datacenter proxies, you'll get unlimited bandwidth. On the other hand, residential proxies are charged per GB, and the data you buy expires after 60 days.
Surge Proxies Costs And Pricing Plans
Let's take a closer look at Surge Proxies' tariff plans.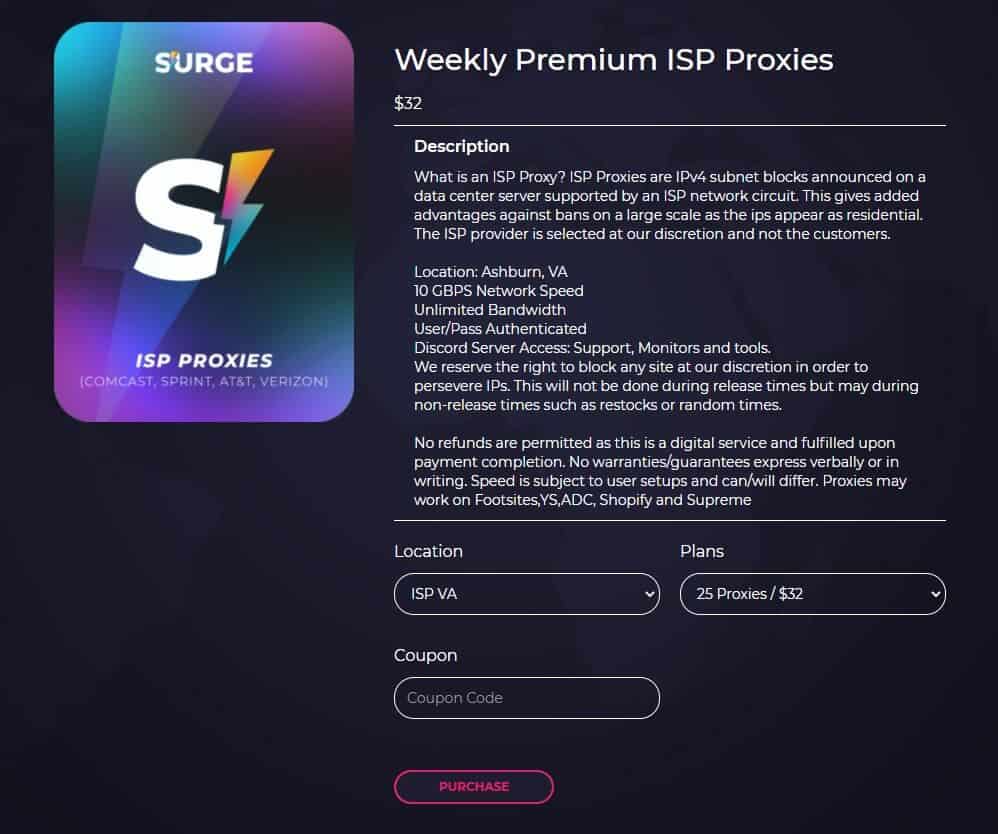 In their monthly datacenter plan, Surge Proxies charges $300 for 100 proxies. This can quickly go up to thousands of dollars if you need a larger number of proxies.
Moreover, with residential proxies, 1GB costs $8.5.
This is 3 times more than what some other top-tier proxy providers charge. For instance, this is what you get with Proxyland:
1GB for $2.9
Large proxy pool
Reliable residential proxies
Many use case scenarios
Useful dashboard
Fast connection
Almost 100% uptime
Responsive customer support
An affordable proxy solution
Discounts on bulk purchases
Is Surge Proxies Legit?
Surge Proxies is a legit company, folks.
They have a verified payment system, and their site is HTTPS secure, so you don't have to worry about safety.
Although they have a few flaws, like the weird website and lack of geo-targeting options, there's no reason to question the company's legitimacy.
Top Surge Proxies Alternatives
Surge Proxies doesn't seem to be the right choice for you?
Don't sweat it – there are many proxy providers you can try that cost less but offer more, like Proxyland.
Proxyland has a giant pool of 10+ million residential IPs that you can use for lots of use cases, from SEO monitoring and SERP analysis to large-scale data scraping.
They also have incredible geo-targeting features – the IPs come from 100+ countries worldwide.
You get all this (and more), only 3 times cheaper.
Surge Proxies Pros and Cons
Here's a final list of Surge Proxies' ups and downs. Hopefully, it will help you make up your mind about this proxy provider.
| PROS | CONS |
| --- | --- |
| A legit company | Basic but overpriced features |
| Fast connection | Datacenter proxies can cost a few thousand dollars |
| | Price per GB is too high |
| | No rotating sessions |
| | Messy and confusing website |
| | No refunds |
Surge Proxies: Final Verdict
So, should you try Surge Proxies?
I'm leaning towards NO.
The thing is that Surge Proxies imposes a hefty price on simple features. They are coming up short when you compare them to other proxy providers.
For example, Proxyland is a legit and reliable company that has a lot more to offer but doesn't overcharge.
If you're not keen on trying Surge Proxies, I recommend you check out the table with the best Surge Proxies alternatives below.