This Leaf Proxies review will answer:
What can you get from Leaf Proxies?
What to expect if you use Leaf Proxies' IPs?
What's the price of Leaf Proxies?
Is it for you – and if not – are there any alternatives?
For all of you who have come to get a quick answer, I've prepared a brief summary, along with the handy table on other services I've tried below.
Still, reading the whole thing will give you a better insight into Leaf Proxies' quality!
Leaf Proxies Review Summary
| PROS | CONS |
| --- | --- |
| A legit company | Overpriced for basic features |
| A diverse offer | Limited locations for datacenter proxies |
| | The extremely high price of data |
| | Their packages are often out of stock |
| | Not for individuals and smaller companies |
| | No refund |
Top Leaf Proxies Alternatives
Leaf Proxies is a brand aimed at corporate businesses.
As an individual like me or a smaller-scale company, I doubt you'll find what you are looking for with Leaf Proxies.
I've put together a list of some better Leaf Proxies alternatives:
What Is Leaf Proxies And How Does It Help You?
Leaf Proxies is another proxy provider that I wanted to test out.
Essentially, they offer two kinds of proxies:
Which ones should you get, and what's the difference?
Well, firstly, datacenter ones do not come from an ISP and hence do not belong to real users, whereas residential ones do.
Instead, datacenter proxies come from third-party servers.
Therefore, they aren't as reliable, and they may get flagged and banned easily.
When should you get datacenter proxies?
For scenarios such as:
Your brand protection
Monitoring internet usage
Preventing cyberattacks
Protecting your email
But, if you are using proxies for one of the following aims:
Data extraction
Affiliate links
Ad verification
Price tag comparison
Social media automation
Sneaker & Shopify bots
Your best bet is to go with residential proxies.
How Leaf Proxies Works
To start with Leaf Proxies, you should fill the cart with the package(s) that you want and then proceed to make a payment.
If you buy a residential plan, your dashboard will display the remaining/used data and the time you have left before the expiry.
You should choose where you want to get your proxy from:
IP Auth pool, which requires you to enter your IP address, or
User Pass, for which you don't have to do that
The authorization will last for around 30 minutes.
You can select the country under the "Country" dropdown menu.
What's interesting to mention here is that you can also choose a specific website from this menu (such as Shopify, SNKRS, Yeezy, etc.) instead of a country.
Next, you can proceed to select gateway from the available ones and set how many proxies you want.
After you hit "Generate," you'll be presented with the list of your proxies. There's a copy button so that you don't have to select and copy the text manually.
And if you bought datacenter proxies, you'll find them under "Hi, [your name] > Datacenter proxies."
There, you'll find all of your datacenter proxy orders. Click "Show" next to one, and it'll display the datacenter proxies in the form of text.
From there, you can either copy them or click "Export," which will download the whole file.
Leaf Proxies also has a Proxy tester that you can get from their official website.
You need to download Leaf Proxies tester software onto your computer. Then, to test your proxies, click "Import" and paste the generated proxies.
You'll be able to set the website for which you want to test them – either choose from the existing list or enter the website itself.
The tester will display proxy speed so that you can opt for the best ones.
Keep in mind: the lower the number, the faster the proxy is because it means that it takes less time to reach the website.
Leaf Proxies Features
Keep reading for a brief review of the best Leaf Proxies features:
Proxy Pool
The number of proxies that Leaf Proxies' proxy pool has surpasses 100 million residential IPs.
That's excellent and up to par with other proxy providers.
Locations
Leaf Proxies has worldwide locations for residential IPs.
Some examples are:
The United States
Germany
France
Belgium
Mexico
Argentina
Brazil
Peru
As you can see, their residential locations are spread throughout the continents.
Their datacenter IPs, however, are limited to two countries, more precisely:
The United Kingdom
The United States
Dynamic vs. Static
Leaf Proxies offers dynamic and static proxies.
If you opt for the dynamic ones (you tweak this under the "Available Gateways" tab on your dashboard), your IP will constantly change.
The static proxies keep the same IP address, even if you refresh a certain website or go to another page. This comes in handy when you are buying things in bulk, for instance.
Customer Support
There is no live chat support on Leaf Proxies' website, but you can ask them for any help you may need on Twitter.
Leaf Proxies Costs And Pricing Plans
Here are some of Leaf Proxies' most popular tariff plans for both types of proxies: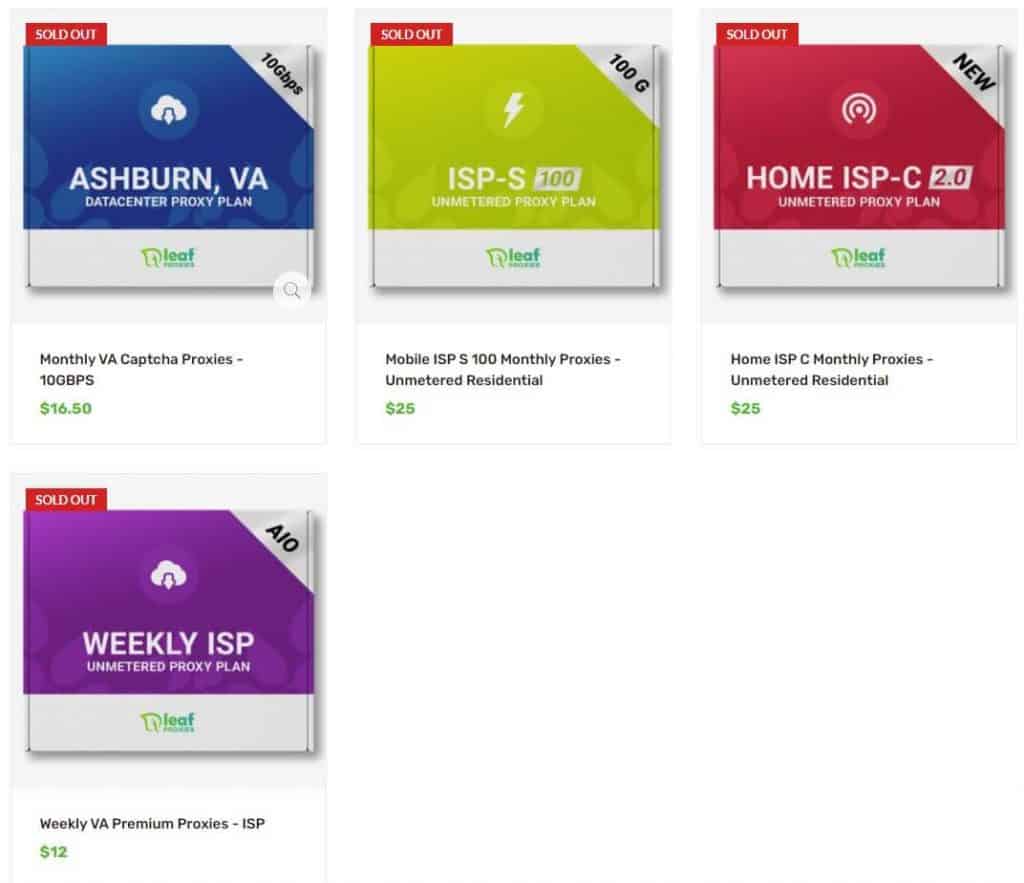 Leaf Proxies datacenter plans are often out of stock.
The daily ones aren't, but they are quite expensive if you do the math:
Ten dollars a day goes up to $300 a month, and that's way too much for datacenter proxies.
And when it comes to residential proxies, the price of data – $19.5 per GB – is shocking.
There are some proxy providers that are 6 times cheaper, such as Proxyland!
Proxyland features:
1GB for $2.9
A large proxy pool of residential proxies
100+ countries worldwide
Data doesn't expire
All use cases, from sneaker copping to SEO & SERP analysis
Affordable for everyone
Intuitive dashboard
Discounts on custom packages
Is Leaf Proxies Legit?
Yes, Leaf Proxies is a legit company. Their record is clean, and their website and payment gateways safe.
Top Leaf Proxies Alternatives
Leaf Proxies offers features that you can find elsewhere for much less money.
One example is Proxyland:
It is 6 times cheaper
Rotating and sticky sessions are available
Over 100 IP locations
Great for individuals
Affordable solution for small and mid-sized companies
99% uptime
Fast response
Leaf Proxies Pros And Cons
| PROS | CONS |
| --- | --- |
| Good performance | Hefty datacenter pricing plans |
| Sleek dashboard | The high price of data for residential plans |
| | Created for large businesses |
| | Not suitable for solopreneurs |
| | Too expensive for mid-sized companies |
| | No possibility to get a refund |
Leaf Proxies: Final Verdict
Leaf Proxies has a wide variety of products, but it doesn't cater to individuals' and smaller companies' needs with its huge price tags.
Luckily, there are a plethora of affordable and reliable alternatives.
Our tests show the best one is Proxyland:
The data is 6 times cheaper
The features are the same
Quite convenient, huh?